22 Places for your next photo shoot on the Sunshine Coast
Attention, Sunshine Coast photography enthusiasts, models, and businesses!
From breathtaking beaches to charming countryside spots and fantastic indoor studios, we've rounded up the top 22 places for your next photo shoot.
Whether you're chasing the perfect sunset backdrop, seeking stunning landscapes, or getting your Sunshine Coast business photography sorted, this guide has got you covered.
Scroll through our suggested locations for Sunshine Coast…
---
Sunshine Coast Beach photoshoot locations
Kawana Beaches
Any beach access, Pacific Blvd, Buddina 4575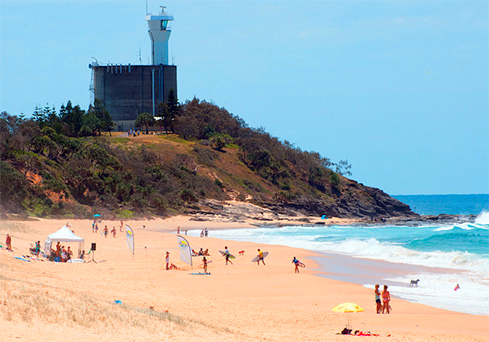 (SOURCE: https://sunshinecoastlifestyle.com.au/activities/point-cartwright-a-shining-point-on-the-horizon)
This stretch of beach, starting from Point Cartwright and ending at Bokarina, has plenty of beautiful scenery for your photo shoot.
It's typically quiet along here, particularly compared to busier areas like Mooloolaba or Noosa. This will give you peace of mind to focus on the shoot at hand, and maybe even make any photography subjects less self-conscious about being captured in public.
Moffat Beach
Seaview Terrace, Moffat Beach 4551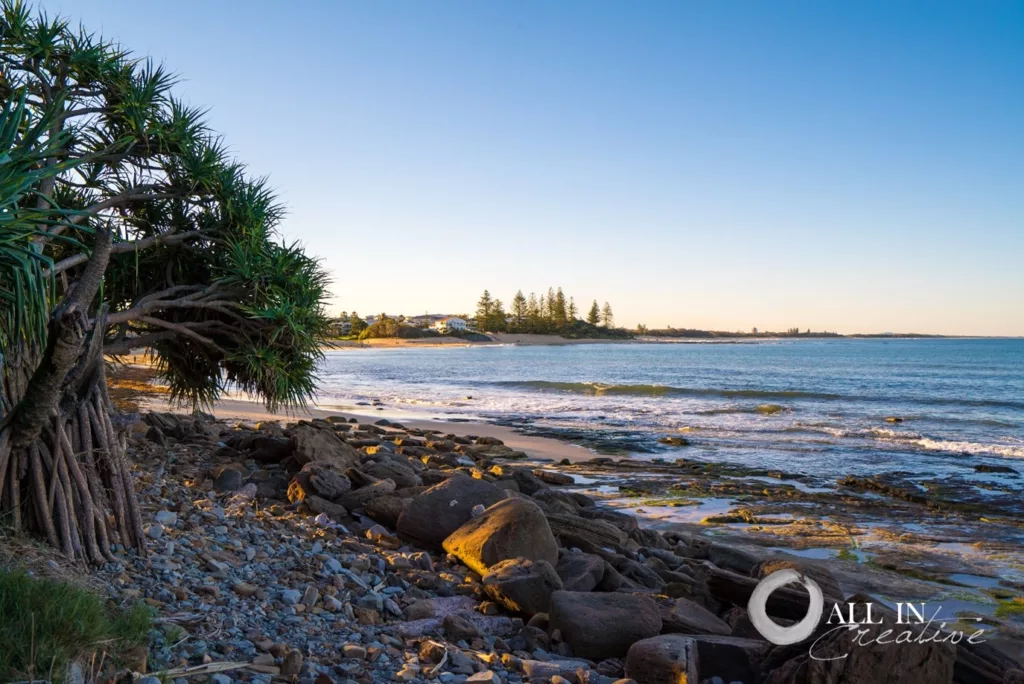 (SOURCE: All In Creative)
Caloundra's Moffat Beach is home to beautiful seaside rocks and breathtaking views of the ocean.
For more variety throughout your shoot, explore Caloundra's unbeatable coastline via the Caloundra Coastal Walk trail, stretching from Golden Beach all the way to Mooloolaba. Plus, Moffat boasts one of the Coast's best picnic spots for those post-shoot feeds.
Tea Tree Bay
Noosa National Park, Noosa Heads 4567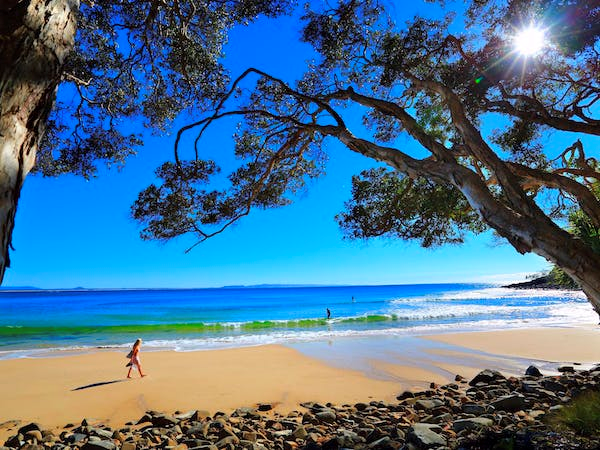 (SOURCE: https://www.queensland.com/tw/zh/things-to-do/attractions/p-584f8dcfaf779cb14de5ee75-tea-tree-bay)
This beautiful spot sits in Noosa National Park, so you'll be treated to a lovely journey through the walking trail as you arrive and exit.
Keep in mind that this spot is unpatrolled and not recommended for swimming, so this photoshoot may have to be entirely land-based. That said, there are gorgeously-shady pandanus trees and flat rocks to add variety to your shoot.
Rainbow Beach
Rainbow Beach Beach Entry, Rainbow Beach 4581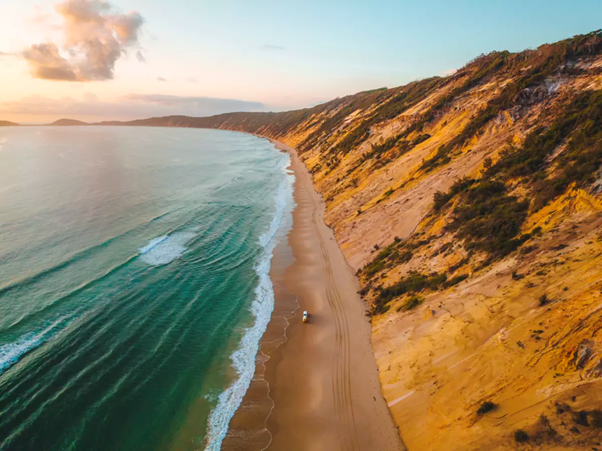 (SOURCE: https://www.queensland.com/au/en/places-to-see/destinations/sunshine-coast/rainbow-beach-and-gympie/rainbow-beach-locals-guide)
This coastal town is the most out-of-the-way spot on our shortlist, but all visitors can testify – it's WORTH IT.
Nestled between Fraser Island and Cooloola Nationa Park, this stretch of beach is contrasted by stunning seaside cliffs and a sub-tropical rainforest along the dunes. If you have a four-wheel drive on hand, why not take it a step further and venture out to Double Island Point for a truly unforgettable photo shoot?
---
Sunshine Coast hinterland photoshoot locations
Mount Ngungun
125 Fullertons Road, Glass House Mountains, 4518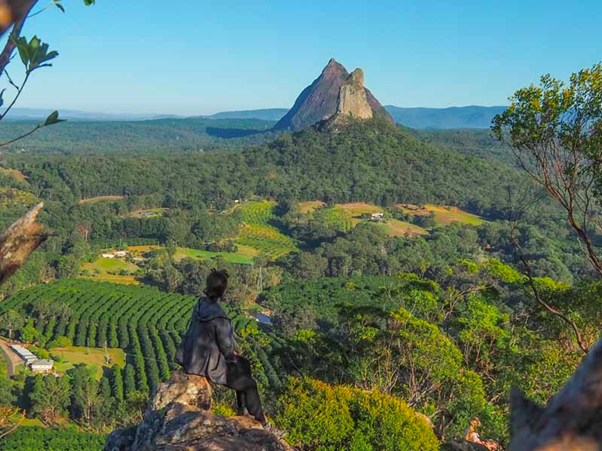 (SOURCE: https://aquariustraveller.com/mt-ngungun/)
Warning: This location requires a bit of a trek, but you'll be thankful you made the effort.
A 2.8km hike to the summit of Mount Ngungun will treat you to a stunning view. Picture this: 360° visual access to the Sunshine Coast Hinterland from high above. You'll feel on top of the world (get it?).
Mary Cairncross Scenic Reserve
148 Mountain View Road, Maleny, 4552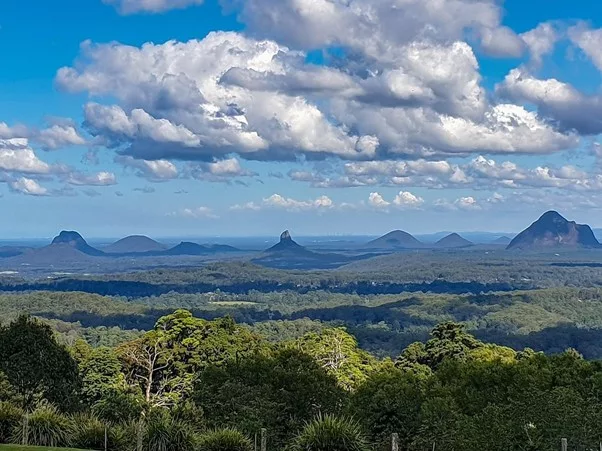 (SOURCE: https://www.tripadvisor.com/Attraction_Review-g499670-d1918432-Reviews-Mary_Cairncross_Scenic_Reserve-Maleny_Sunshine_Coast_Queensland.html )
With 55 hectares of picturesque subtropical rainforest, Mary Cairncross Scenic Reserve can't (and shouldn't) be overlooked.
Overlooking the Glass House Mountains, your photoshoot's backdrop will be filled with centuries-old trees and a thriving ecosystem – almost 400 plant species call this reserve home. The best part? The majority of the reserve's walking tracks are highly accessible, making it perfect for almost any photography subject.
Baroon Pocket Dam
207 Narrows Road, North Maleny, 4552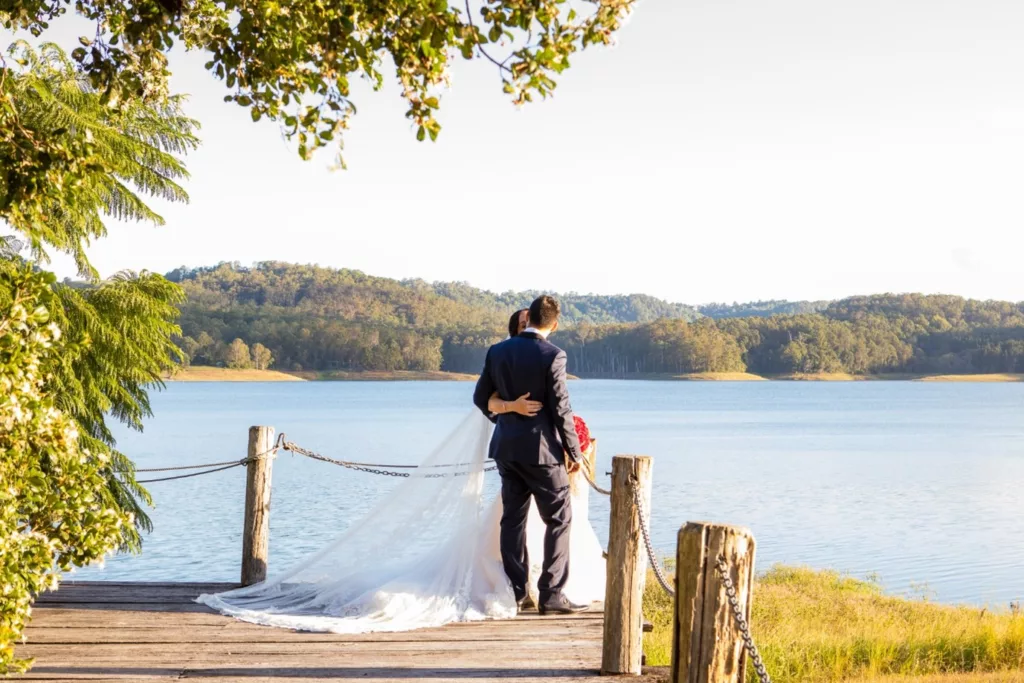 (SOURCE: https://www.vsphotographer.com.au/wp-content/uploads/2018/05/0T1A8240.jpg )
Tucked between Montville and Maleny, Baroon Pocket Dam is a spectacular lake that welcomes swimmers, kayakers, fishing fanatics, and all other kinds of nature lovers. This is close by to Secrets By The Lake, a popular wedding venue that also looks over the dam.
The lake is surrounded by incredible picnic spots, beautiful wildlife, and forest ridges for a more lush background. Simply put, Baroon Pocket showcases everything there is to love about the Sunshine Coast's Hinterland.
Maleny Botanic Gardens
233 Maleny Stanley River Road, Maleny 4552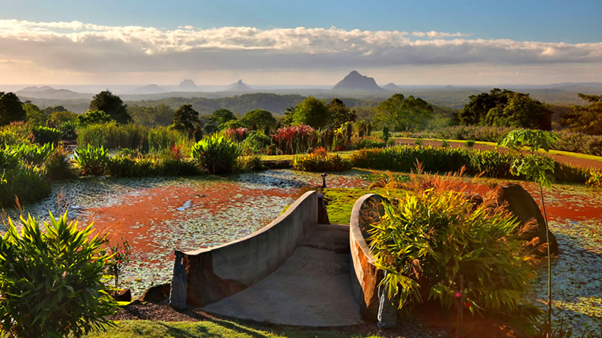 (SOURCE: https://www.malenybotanicgardens.com.au/about-the-gardens/)
Maleny is home to rolling green hills, farms, and stunning views of the Glass House Mountains.
That's not to mention the Botanic Gardens, dotted with gorgeous ponds, plants, and birds. You'll be treated to the most breathtaking backdrop imaginable. Trust us, this unique setting has earned its reputation as the "Jewel of Maleny".
---
Sunshine Coast rainforest photoshoot locations
Robinson Falls
49A Waterfall Road, Nambour 4560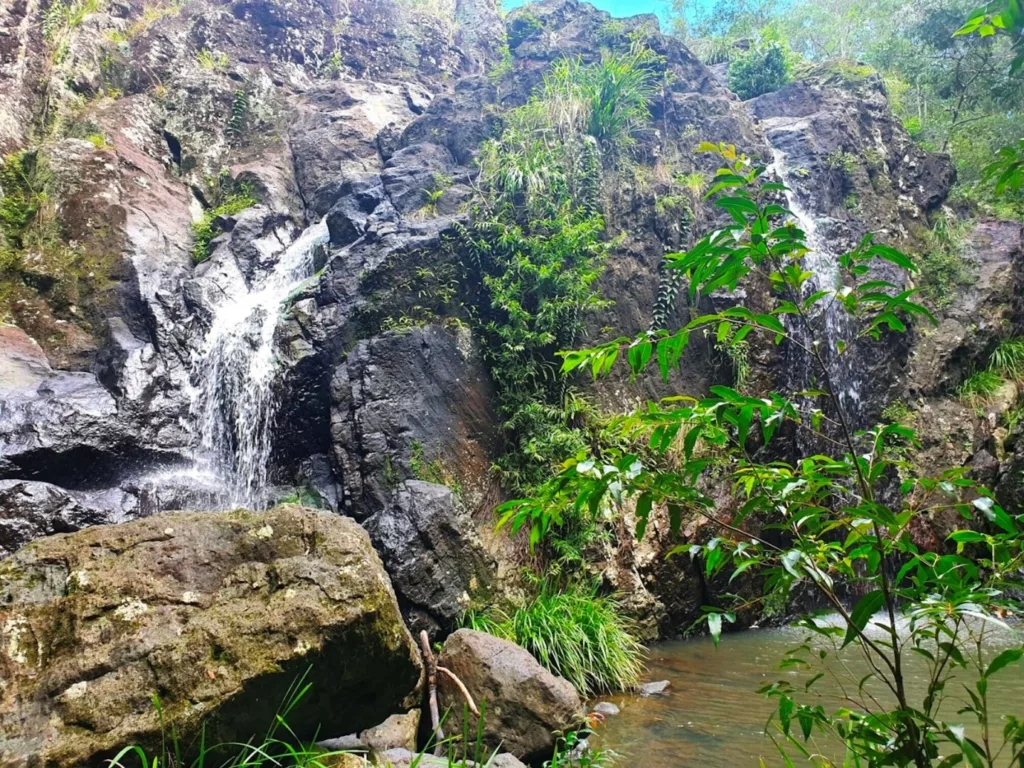 (SOURCE: https://www.asunnierlife.com/home/2020/7/13/robinson-falls-nambours-secret-waterfall)
We're about to spill Nambour's secret – a place to unwind and enjoy the beauty of the Coast's hinterlands from the ground floor.
Robinson Falls at Cliento Park is surrounded by lush greenery, tall and shady trees, a gorgeous waterfall, and a walking trail through the park. It's a relatively short bushwalk to experience an unforgettable sanctuary from the Coast's urban areas.
Kondalilla National Park
Kondalilla Falls Road, Flaxton 4560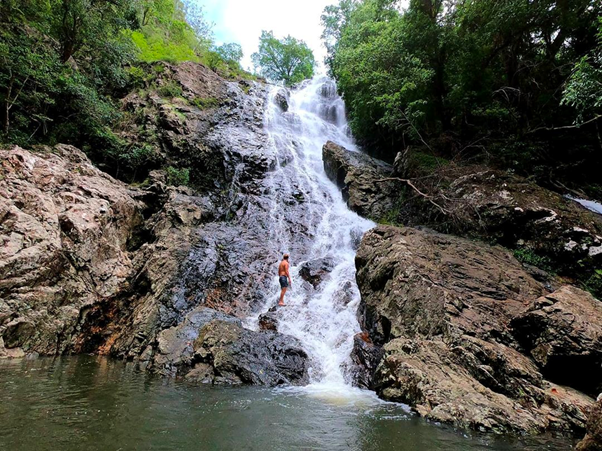 (SOURCE: https://www.queensland.com/gb/en/places-to-see/experiences/nature-and-wildlife/waterfalls/how-to-do-kondalilla-falls)
Another waterfall spot for nature lovers, this time located just 4 kilometres north of Montville.
This location boasts a beautiful 90-metre-tall waterfall, rocky pools, freshwater creeks, and gorgeous greenery. Fun fact: The park gets its name from an Aboriginal word that means "rushing waters".
Buderim Forest Park & Falls
Quorn Close, Buderim 4556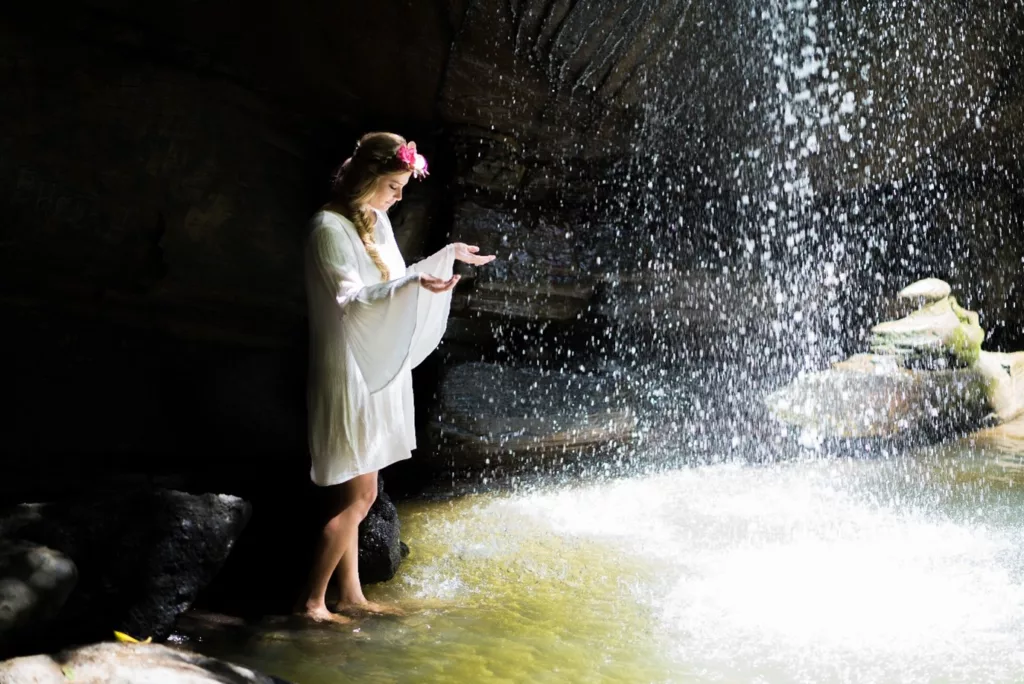 (SOURCE: All In Creative)
Also known as Serenity Falls, this beautiful waterfall cascades on the northern side of Buderim Mountain.
You'll also be treated to giant trees, a beautiful creek, and plenty of rocks for nature-infused posing. If you're looking for a gorgeous backdrop for your shoot's subjects, or you're simply looking to capture a piece of the Sunny Coast's natural beauty, don't skip this gem.
---
Sunshine Coast countryside photoshoot locations
Kenilworth State Forest
Sunday Creek Road, Kenilworth 4574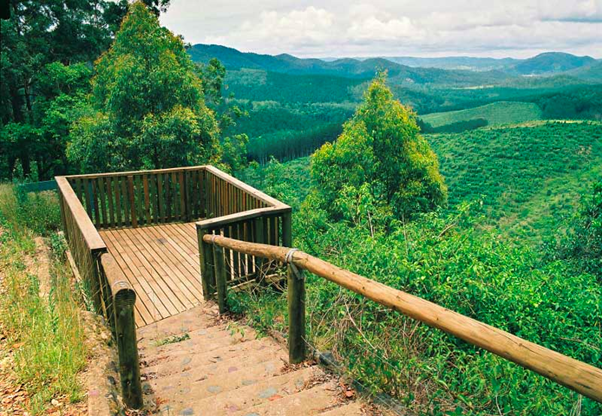 (SOURCE: https://www.australiaforeveryone.com.au/files/qld-se/kenilworth.html)
Kenilworth has gotten famous in recent years for its Country Bakery, but beyond the coffee served in a donut, you'll find a beautiful countryside town.
The state forest runs adjacent to the town, filled with pine trees and eucalypt forests, cliff faces and creeks, and intimate watering holes. You'll find near-unlimited spots for a countryside photoshoot here.
Yandina Station
684 N Arm Yandina Creek Road, Yandina Creek 4561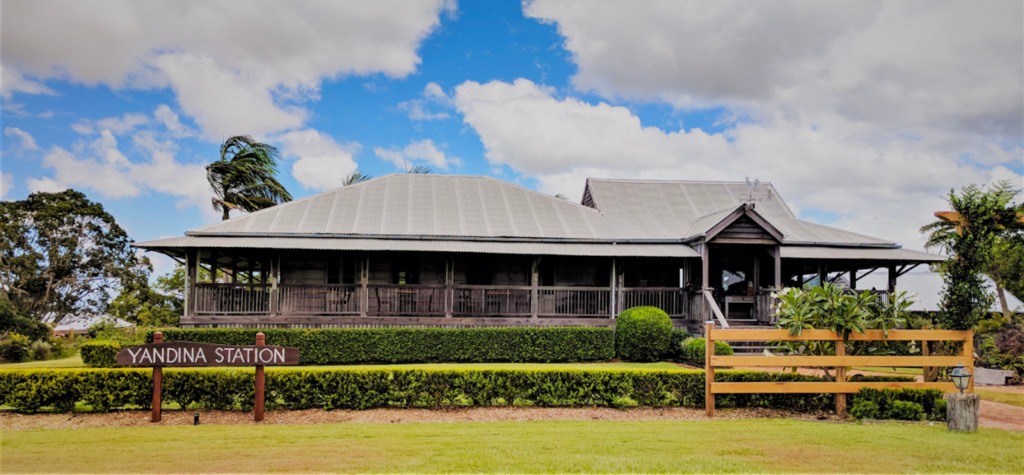 (SOURCE: https://yandinastation.com.au/)
As one of the oldest towns on the Sunshine Coast, Yandina is THE countryside location to visit for your photoshoot.
Yandina Station is a luxury country estate and working cattle property that doubles as a venue for weddings and other functions. You'll be treated to views of Mount Coolum and the Yandina Station's grazing pastures, filled with lush grass and cute cows.
Gerrards Lookout
Maleny-Montville Road, Maleny 4552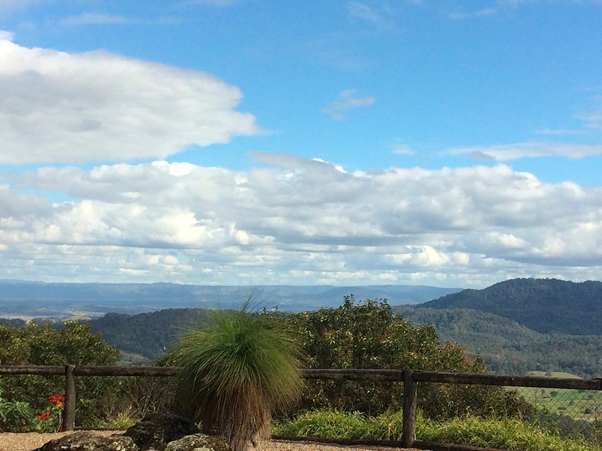 (SOURCE: https://www.tripadvisor.com.au/Attraction_Review-g499670-d7980879-Reviews-Gerrards_Lookout-Maleny_Sunshine_Coast_Queensland.html)
Capture fantastic, panoramic views of the valley in Maleny's quiet and intimate Gerrard Lookout.
Here, you'll find a beautiful plaque that reads: "In memory of Hazel and Charlie Gerrard, who donated the land for this lookout for the enjoyment of the public". Take advantage of the Gerrard's gift to the people of the Sunshine Coast and visit this breathtaking lookout.
---
Sunshine Coast urban backdrop photography locations
Mooloolaba Esplanade
Beach Terrace, Mooloolaba 4557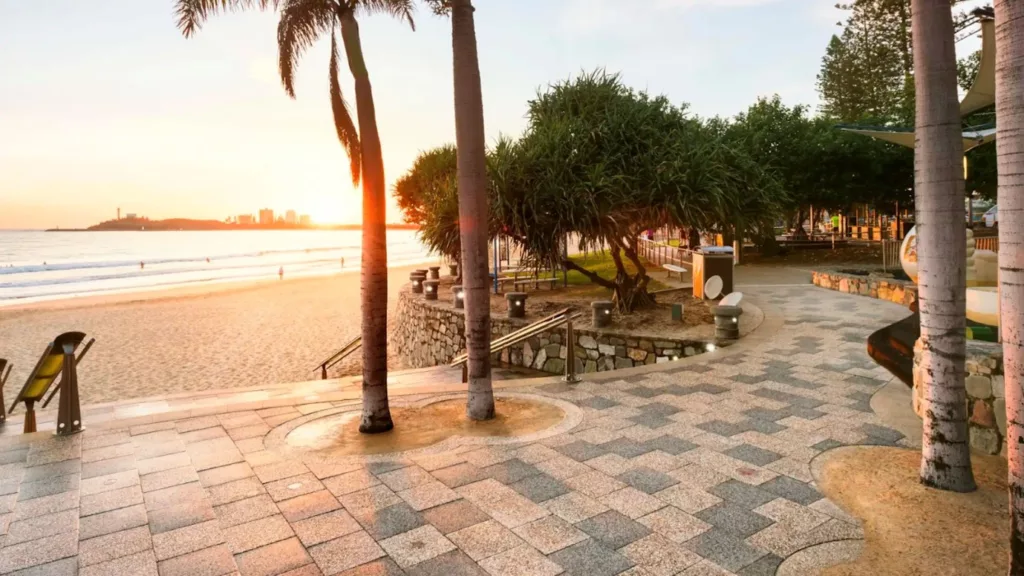 (SOURCE: https://www.brickworks.com.au/articles/products-articles/mooloolaba-esplanade/)
This busy beachside stretch of land is dotted with gigantic trees, views of the coastline, and bustling cafes.
A few blocks away, you'll find the Mooloolaba Wharf, overlooking the canals, boats, and jaw-dropping waterfront homes. It's the perfect blend of coastal vibes and chic ambience for a seaside photoshoot.
Lake Kawana
Sportsmans Parade, Bokarina 4575

(SOURCE: https://www.alltrails.com/trail/australia/queensland/lake-kawana-loop)
With 5 kilometres of water and parkland, Lake Kawana is best suited for an early morning or sunset photoshoot.
You may be surprised to find out that this is an artificial lake because it truly feels meant to be on a natural level. The foreshore boasts paths for cycling and walking, and there are multiple spots for picnics posing with the gorgeous water as your backdrop.
Alex Skate Park
167 Alexandra Parade, Alexandra Headland 4572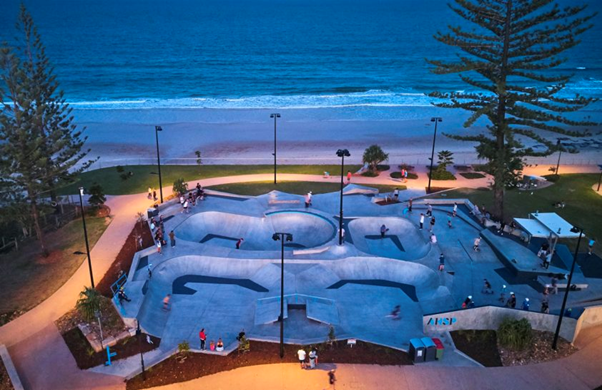 (SOURCE: https://convic.com/projects/alexandra-headland-skate-park/)
Parallel to gigantic Norfolk Pine trees and the beautiful Alexandra Headlands coastline, this skate park is a dynamic background for your next shoot.
This location combines all of the best aspects of the Sunshine Coast's urban areas. You've got the beach right in front of you, gorgeous greenery, shopfronts, and locals enjoying the Coast's famous laidback lifestyle.
Caloundra Coastal Pathway
Esplanade Bulcock Beach, Caloundra 4551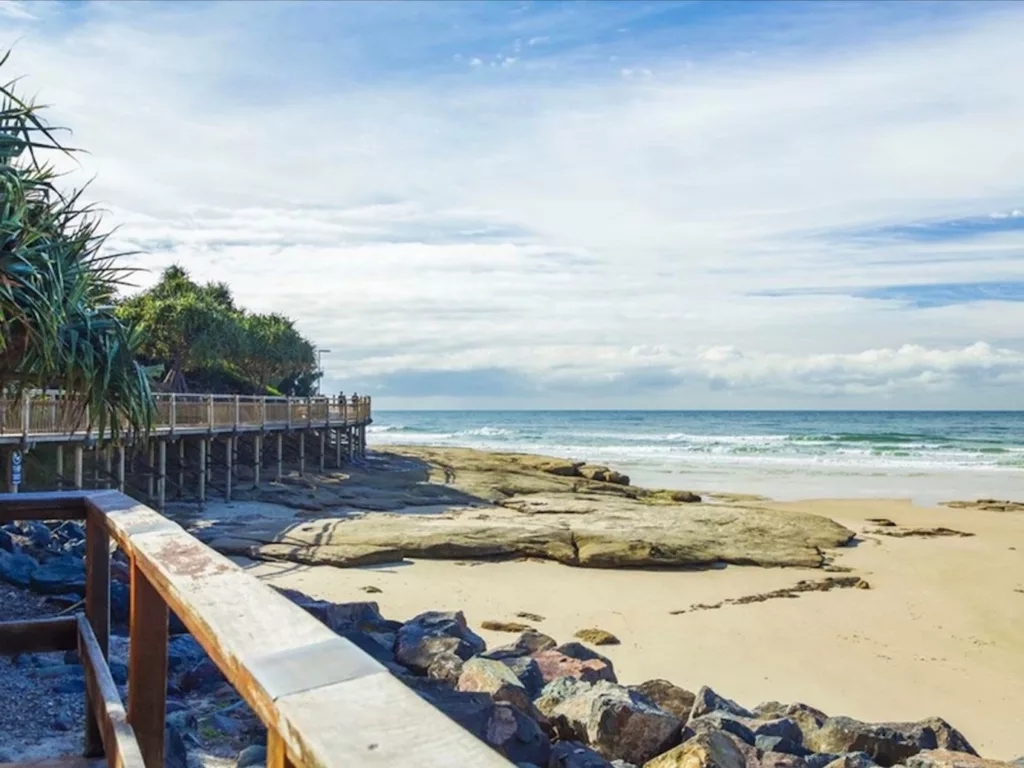 (SOURCE: https://www.queensland.com/fr/fr/plan-your-holiday/journeys/p-56b265b0aeeeaaf773cf8601-caloundra-coastal-walk)
If you're looking for unbeatable views of Caloundra's coastline and a fantastic backdrop of flora, look no further than the Caloundra Coastal Pathway.
This is just one section of a 73-kilometre-long pathway, but the Caloundra area is our favourite for those viewing areas and pause points off the main path. They give you the perfect opportunity to overlook the beach and give your photographs a stellar background.
---
Sunshine Coast photography studios
Suite 202/8 Maroochydore Road, Maroochydore 4558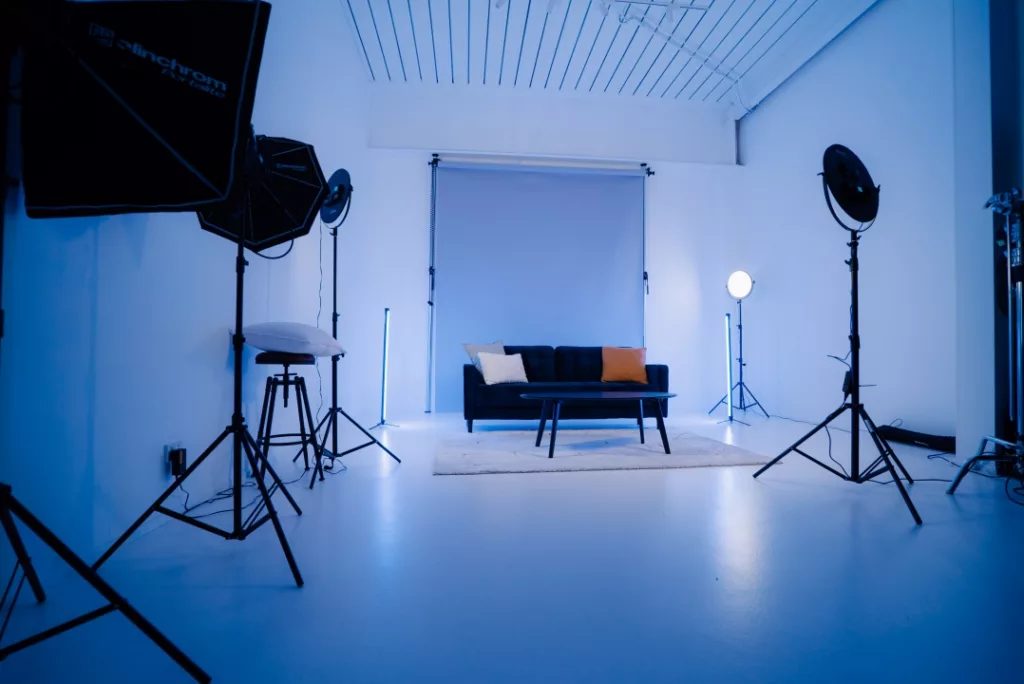 If you want to take your photo shoot to the next level, All In Creative's brand-new studio is ready to make it happen.
Located in the heart of Maroochydore, our premium creative space is available for video production, photography, and podcasting. It includes multiple lights, backdrop options, and plenty of space for creativity.
Whether it's for a personal photoshoot, corporate photography or your next product shoot - the incredible crew at AIC is available to take care of the entire shoot for you. Check out our website for more info!
Shop 2/38 Technology Drive, Warana 4575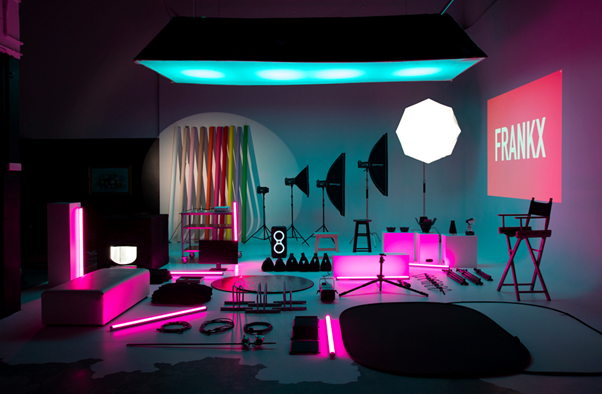 (SOURCE: https://www.frankx.co/)
For bigger shoots that require a massive space to play with, we recommend Frankx! This Warana photography studio and event space was made by creatives, for creatives.
At an additional cost, they even offer behind-the-scenes videography to give your socials exciting new bonus content.
1/95 Eumundi Noosa Road, Noosaville 4566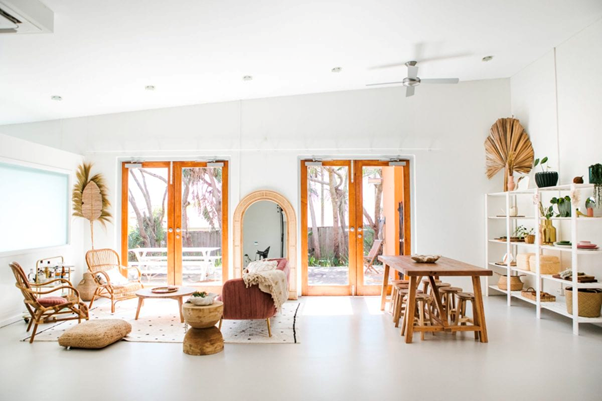 (SOURCE: https://thegoodspacestudio.com.au/)
If you're on the northern end of the Sunshine Coast, The Good Space Photo Studio is an eclectic and contemporary space for your next shoot.
Whether you need a quick shoot or require the space for the whole day, this studio is suited for agencies, artists, content creators, and local businesses. Check out their prop library for some creative inspo to match your shoot's aesthetic.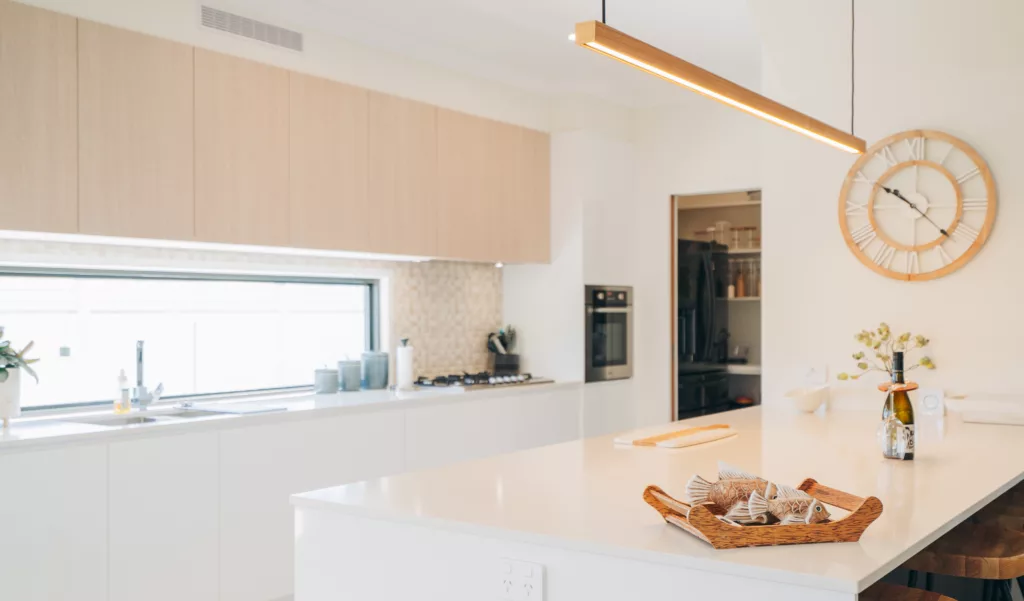 (SOURCE: All In Creative)
If you want an entire space to yourself on your terms, there are hundreds of Airbnbs available on the coast to hire for upwards of a day.
You can get a range of spaces, from modern tiny homes to rustic cottages and giant coastal mansions. Of course, this option requires hiring or owning all of the necessary equipment, so we primarily recommend Airbnbs to freelance photographers and similar creatives.
In fact, at All In Creative, we have a close relationship with an Airbnb management team with access to over 30 Airbnb locations, many styled perfectly for any lifestyle or branding photoshoot on the Sunshine Coast.
Choosing the perfect location for your next Sunshine Coast photoshoot
This list is only the beginning! There are so many beautiful locations on the Sunshine Coast for your photoshoot that it would be impossible to list them all.
Use this list as a starting place, and have a chat with us about other options if you need.  There's also nothing like going for a drive to find the perfect place for your photoshoot.
Your one-stop Sunshine Coast studio
If you're looking for the right indoor studio for photos or videos on the Sunshine Coast, All In Creative is dedicated to making you look awesome. We're creative content specialists who focus on creating media that communicates who you are, what your vision is, and what you're offering in a way that produces results.
Our brand-new Sunshine Coast studio is taking bookings now and is open for everything from DIY hire to a complete photo or video shoot package with all the crew and equipment you need to take your shoot to the next level.
Reach out to us today for more information!