The Sunshine Coast isn't just a slice of paradise; it's a rapidly growing market ripe with opportunities for tradies. In fact, in the 2022/23 financial year, the Sunshine Coast Council reported over 10k building applications and $2.2B worth of building approvals.
The growing trades industry makes it more important than ever to stand out. But gone are the days of relying solely on word-of-mouth or local directory listings. Now you have to compete online, and face the digital marketing battle to reach your target market.
To be the best of the best requires effectively navigating this digital marketing landscape to stand out and hook your ideal clients. Here you'll find some ideas and strategies to skyrocket your marketing and get the results you're looking for!
Photos are pivotol
Pictures speak a thousand words. If you're trying to demonstrate that you do a quality job, then you need quality photos to prove it. Taking professional photos of your work will:
Showcase your craftsmanship - especially with before and after photos
Help clients visualise the possibilities for their own projects
Build trust by helping people see your track record
Act as visual testimonies through a project gallery
Allow you to utilise a range of online marketing resources that require photos (ie. Instagram).
Adds a personal touch and increases the feeling of connection
Helps clients see what goes into your projects, building brand appeal and attraction
Use video wherever you can
Video is the peak content type for digital marketing. Reports show that 66% of consumers consider video the most engaging type of content.
Types of videos that tradies can use for marketing include:
Transformation timelapse
Testimonial videos from clients
Project highlight reels
Project walkthrough videos
Brand collaboration videos to show how you incorporate them into your work
Get Your Business on Social Media
Social media isn't just a playground for fashionistas and foodies; it's a bustling marketplace where everyone, including tradies, can shine.
Misconceptions, like Instagram being unsuitable for plumbers or carpenters, undersell its potential. The truth? Every trade has a story, a process, and results worth sharing. If you're not sure it's for you - read more on our blog about why social media marketing is important for business.
Some of the benefits of having your trade business on social media include:
Being active where people are often searching for recommendations
The added ability for more testimonials and reviews (particularly on Facebook)
Building additional trust with your potential customers who can see more of what you do
The opportunity to communicate with your audience at any time of the day (or night!)
The chance to give people an insight into the behind the scenes of your business and why you're the best
Access to the large local digital reach on the Sunshine Coast, with over 90% of residents active on social media
A pro social media management team will help you put together a strategy that will work. They'll help you use platforms like Instagram, TikTok, LinkedIn and Facebook to showcase your craftsmanship and connect you to new clients. Finding the right social media managers is important to make sure you get the ROI and results you're looking for!
Get Your Website Converting and on Google
Your website acts as your digital front door, a place where potential clients can explore your services, assess your professionalism, and get in touch. It's more important than your business card used to be!
But a website alone isn't all you need. You need your website to be searchable on Google, with search engine optimised (SEO) pages that ensure that when people are searching for you, they find you first.
Think about it - when was the last time you searched for a Sunshine Coast business and went past the first page of recommended search results?
As a trades business, you need a website that can be found before your competitors, that then converts your traffic into sales and bookings. It's a two-fold process, and one is not more important than the other. If you have a high-converting website that no one can find, it's not going to work. And if you have a website that doesn't convert customers, then it doesn't matter who finds it, it also won't work!
So how do you get both? We recommend working with a digital marketing agency, with experts in both web design and SEO. Keep in mind, however, that though they are similar services, they are extremely different skills!
Boost Your Reach With Online Advertising
If you've got all of the above marketing tools already flowing, with great visuals, videos, social media strategies and a good website, then your next step is to boost your content with ads!
Platforms like Meta and Google ads are like the high-precision tools in your marketing toolbox. They enable you to craft advertisements that speak directly to your target audience.
Through Meta and Facebook Ads, you can tap into the vast social network to showcase your projects and connect with customers who value your craftsmanship. Google Ads propels your services into the spotlight when potential clients search for your tradie expertise.
These platforms can deliver extremely high results, but keep in mind you need to use them correctly! Otherwise, the ad spend money you are shelling out could be going to waste.
The best way to make sure that your ads are high-quality, client-converting power tools is to work with someone who knows how to use ads for tradies. Even better, get a local Sunshine Coast ads manager to help, who knows the area and comes with the extra insight of being a local!
Don't Say Goodbye to Every Traditional Marketing Tool
While we could write all day about how important your digital marketing is, there is still a time and place for your 'old school' traditional-styled marketing.
For example, use well-designed picket signs out the front of your projects so people know who it is that's doing the work. While you're there, letter-box the neighbours with some fliers so that when they find themselves wondering who is making their neighbours house, garden or construction project look so good, they'll know it's you! And never underestimate the power of a good car wrap while you're stuck in the Nicklin Way traffic!
Just make sure you put the same effort into designing your printed marketing as your digital, keeping a consistent style across both the digital and traditional spaces. This is where high-quality project photos remain imperative!
Remember, you don't have to do it all!
Running a trades business can be all-consuming, with so many tasks to juggle. From quote enquiries to invoices and ordering supplies, it's easy to let marketing slip to the bottom of the list. Especially in an area like the Sunshine Coast that is growing so quickly!
You don't have to do it all! In fact, if your marketing is done right, the results should easily pay for themselves while still expanding your business and profits. Get help from a good marketing agency to take the weight off your shoulders.
All In Creative: Your Masters of Digital Content Marketing
Get the best Sunshine Coast content marketers working on your trades marketing so you don't have to!
At All In Creative, we specialise in crafting tailored strategies that resonate with the Sunshine Coast community. We'll elevate your business, with a serious focus on meaningful results.
Our team is small enough that you aren't working with an agency where you are just another number, but big enough that you have access to a range of specialists, like our Sunshine Coast video experts, local graphic designers and website builders.
With a finger always on the pulse of marketing trends and a deep understanding of the local commercial ecosystem, we are here to elevate your trades business.
Experience marketing mastery with All In Creative. Get in touch with us today!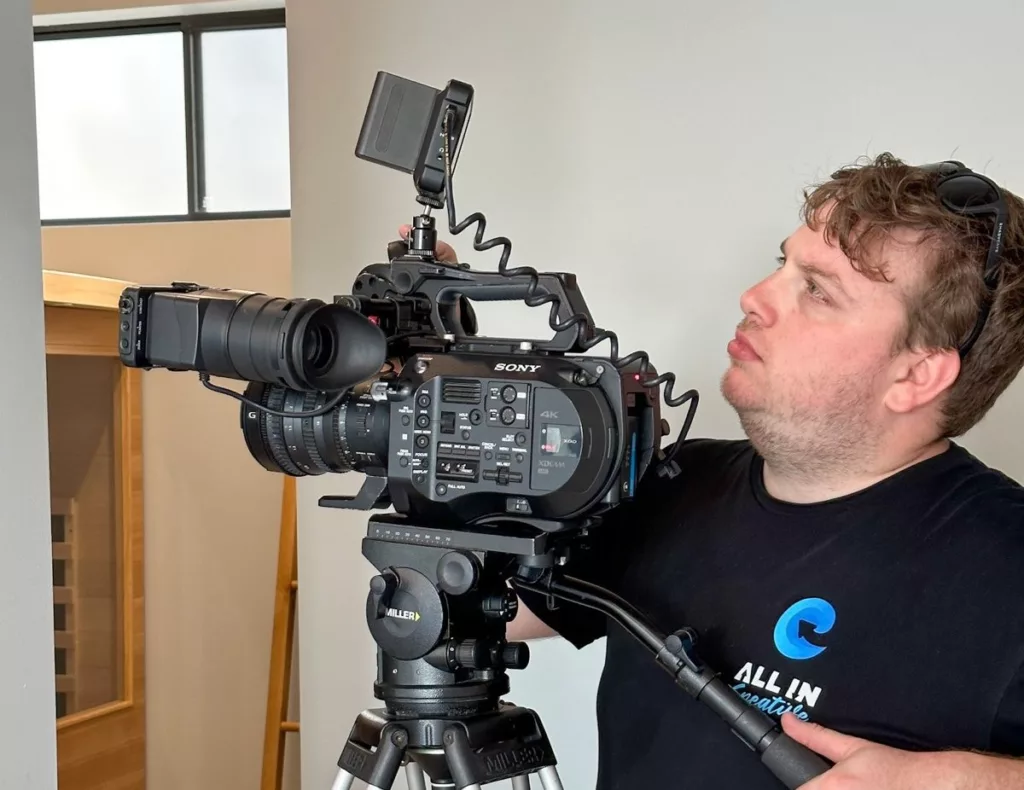 With diverse landscapes ranging from golden beaches to lush hinterlands, the Sunshine Coast is a picturesque paradise with almost endless backdrops for any kind of photoshoot. But what about when the weather turns?
Rain or shine, sometimes the photoshoot must go on! Whether it's your wedding day or you just can't reschedule, you won't be the first to need somewhere covered to shoot your photos.
Thankfully, the Sunshine Coast isn't just about those sunny beach days. It's brimming with unique indoor and covered locations that are perfect even when an unexpected shower hits.
Here we've curated a list of 10 undercover locations to ensure the perfect photoshoot, no matter the forecast.
Suite 202/8 Maroochydore Road, Maroochydore 4558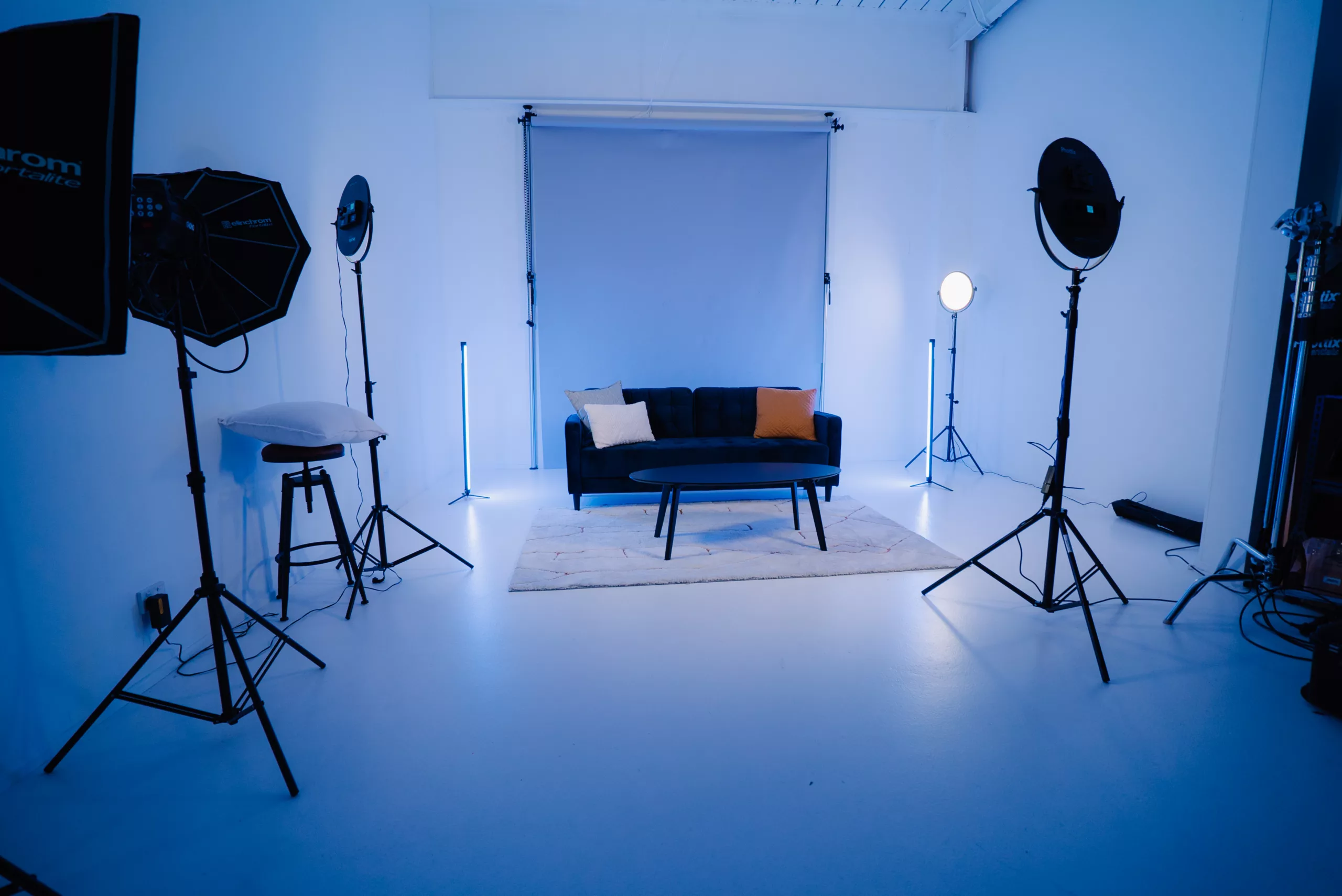 (Source: All In Creative)
Studio spaces can be the perfect pivot for a rainy-day photo shoot, particularly during those unpredictable wet-weather days. All In Creative's state-of-the-art studio on the Sunshine Coast has flexible bookings, furniture and props, and all the lighting and photography equipment to turn your rained-out shoot into something beautiful.
Nestled in the heart of Maroochydore, this premium space provides the ideal sheltered haven for your photography and video production needs. Plus, the talented All In Creative crew is on hand to streamline the entire process.
Noosa Marina
2 Parkyn Circuit, Tewantin 4565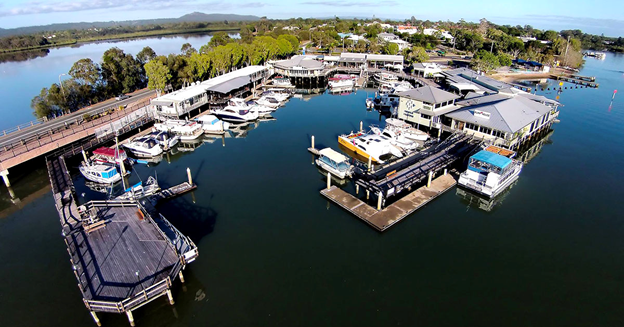 (SOURCE: https://noosamarina.com.au/2020/04/10/its-easter-time-at-noosa-marina/)
Set sail for the Noosa Marine, a charming locale that lends a nautical touch to your imagery.
The marine offers a spacious, covered dock area, providing ample shelter for any unexpected downpours.
The sleek boats and glistening water make for an enchanting backdrop that lends a sense of adventure and elegance. No matter the weather, the Noosa Marina's blend of coastal charm and practical shelter makes it a prime photoshoot location.
Mary Cairncross Park Viewing Platform
148 Mountain View Rd, Maleny QLD 4552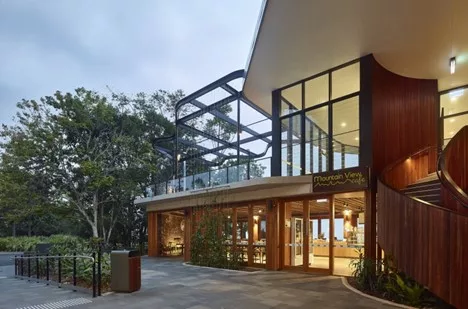 Thankfully rainy clouds in the Sunshine Coast Hinterland still make for a beautiful backdrop!
If you're looking for somewhere undercover and out of the weather to take your photos, part of the upstairs viewing deck is undercover and out of the rain, with glass windows looking out over the Glass House Mountains.
Balmoral Lookout
634 Maleny - Montville Rd, Balmoral Ridge QLD 4552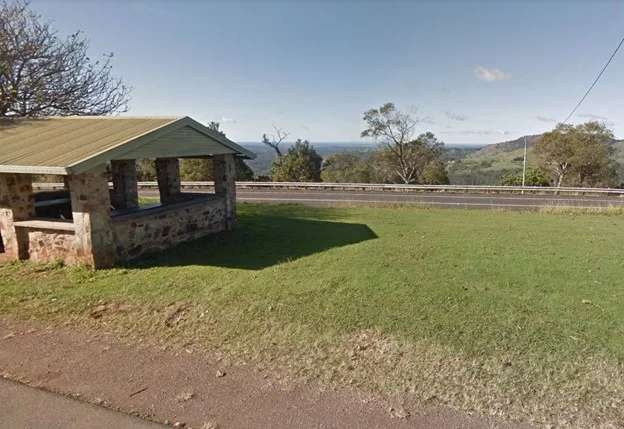 Another perfect little undercover Hinterland location is the Balmoral Lookout. Even if the views are clouded over, the rustic stonework can make a good outdoor, but undercover photo shoot location.
If you're getting married on the Sunshine Coast Hinterland, this may not be the most obvious location, but it makes for the perfect rain storm backup.
Ginger Factory
50 Pioneer Road, Yandina 4561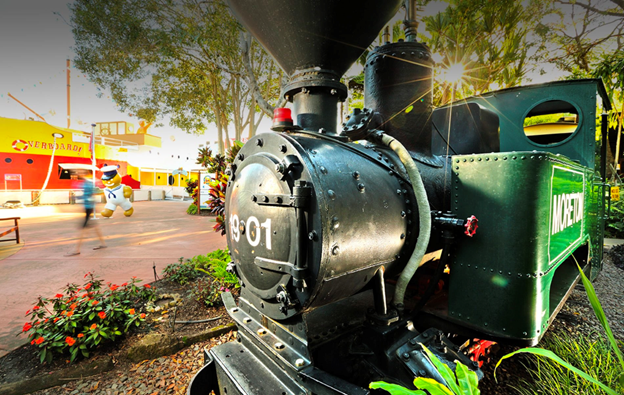 (SOURCE: https://www.gingerfactory.com.au/)
Spice up your photoshoot at the Ginger Factory in Yandina, one of the Sunshine Coast's most unique locations.
This spot offers an array of indoor and covered spaces that remain unfazed by the weather, offering a cosy haven for when the rain starts to pour.
The factory's unique ambiance and rustic charm set the stage for a truly memorable photoshoot. For snaps that pack a punch and leave a lasting impression, the Ginger Factory shouldn't be passed up.
The rain can even be the perfect backdrop for photos under the umbrella art installation!
Just be mindful that during school holidays and weekends, this can be a busy and popular Sunshine Coast attraction for families.
Landsborough Museum
4 Maleny Street, Landsborough 4550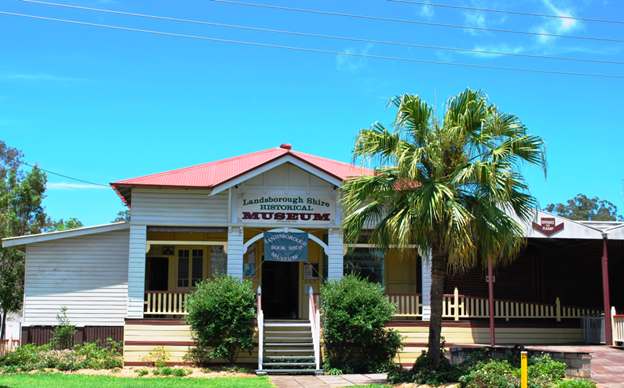 (SOURCE: https://en.wikipedia.org/wiki/Landsborough_Shire_Museum)
Dive into the rich history of the Sunshine Coast with your next photoshoot at the Landsborough Museum.
Home to a treasure trove of historical artifacts, this unique spot provides an engaging backdrop that tells a story, making your photos stand out.
Whether it's a staff photoshoot amidst intriguing exhibits or product shots that blend modern innovation with a touch of the past, the museum offers a truly distinct setting.
Sunshine Castle, Bli Bli
292-296 David Low Way, Bli Bli 4560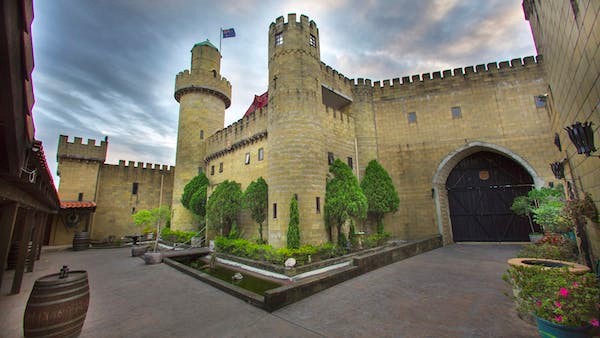 (SOURCE: https://www.queensland.com/au/en/things-to-do/attractions/p-56b260aa7b935fbe730e0318-sunshine-castle-bli-bli)
Add a touch of royalty to your next photoshoot at the Sunshine Castle in Bli Bli.
This captivating venue boasts intricate interior architecture, providing a grand and aesthetically pleasing backdrop for your photos.
Each room within the castle tells a story, offering a rich variety of settings for your shots. Despite the rain, the castle's indoor areas promise a dry and majestic setting. With the Sunshine Castle as your backdrop, your photoshoot will be nothing short of regal.
Yandina Station
684 N Arm Yandina Creek Road, Yandina Creek 4561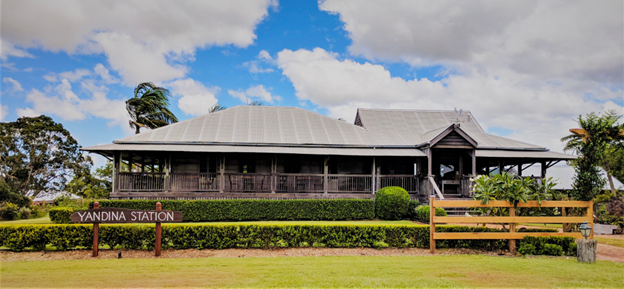 (SOURCE: https://yandinastation.com.au/)
Looking to capture the magic of a special day, regardless of the weather? Look no further than the elegance of Yandina Station.
This heritage-listed property offers a combination of rustic charm and elegant indoor spaces, perfect for wedding photoshoots.
Its sheltered areas provide the perfect backdrop for capturing those magical moments, even during the wet season.
The Chapel Woombye
16-18 Pine Grove Road, Woombye 4559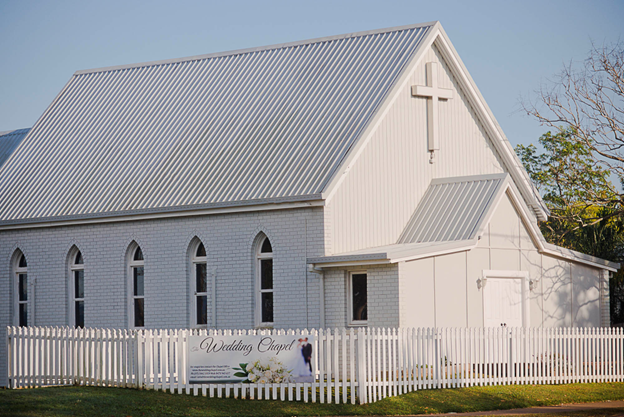 (SOURCE: https://adarlingaffair.com/wedding-chapel-woombye/)
Much like our previous entry, the Chapel Woombye provides a serene and idyllic setting for your photoshoot.
Its distinctive, weather-proof indoor spaces are a photographer's dream, ensuring that you end up with memorable shots, rain or shine.
From intimate to grand events, this venue guarantees that your photo shoot will be unforgettable – and you'll have the memories captured in time to prove it.
AirBnB venues
The Sunshine Coast has a vast array of gorgeous Airbnb houses that can make for a perfect photoshoot wet weather plan.
At All In Creative, we work with a number of Airbnb properties and have a large list of potential properties that make for perfect photoshoot locations.
AirBnB's make for the perfect backup plan, as there are lots of them and they are located all over the coast, with styles from rustic country to modern industrial and coastal boho looks a-plenty!
Saving Your Rainy Days: The Sunshine Coast's Best Wet-Weather Photoshoot Locations
The Sunshine Coast can't always live up to its name. When dark clouds appear and threaten to rain on your parade, you can rely on these locations to save the day.
From indoor photo studios to the regal Sunshine Castle, these venues promise dynamic shots, rain or shine.
Why not get creative?
These locations may be great, but sometimes there's something special about getting outside in the weather and just making the most of it!
Wedding photos with umbrellas and team shots laughing in the rain can bring a depth of character and personality to your photos you never thought you needed.
There are plenty of other locations you could use if you decide to get creative too. Many urban areas like carparks and petrol stations have undercover spaces you can get a grungy or industrial feel, and even an undercover park shelter can offer a pretty backdrop.
Get creative and don't let the weather stand in your way!
Above all, the All In Creative studio stands as a reliable choice - rain or shine. Our studio space is fully equipped for camera photography and videos, with the added advantage of a skilled crew to assist you if your plans have just changed!
From couches to lamps, backdrops, and side tables, the studio has plenty of props to get creative with too - all with lighting solutions if you haven't planned to take your shoot indoors!
Want to use our space? Get in touch with us via our website for more information. Let's make your next shoot the most memorable one yet, no matter the forecast outside.
From profile pictures on your business website to photos for your work email, we've likely all had to have headshots taken at some point.
Taking a headshot might seem as simple as "point and shoot" to many people, but there are some ways to maximise the quality of your headshot.
Our Sunshine Coast-based photographers are corporate headshot experts and know how to make your photos shine, whether it is for business photography, corporate photography or any other purpose.
What is a headshot?
A headshot is not just any old photo. Headshots convey professionalism and show your business face and brand. They are often your first impression of the world in the professional space.
Now, this certainly does not mean that you can't smile or inject some of your personality into the shot, but our photographers do recommend a few tips and tricks to get the best headshots for you.
Tip #1: Wear neutral colours and clothing styles
Your face is the focus of a professional headshot, so distracting colours and styles should be kept to a minimum. Wear neutral colours and avoid bright and eye-catching patterns. For corporate photos, a neutral-tone suit with a shirt is a fantastic look, as is a neutral blouse, jacket or dress.
This also goes for accessories, such as earrings or other jewellery, scarves or headwear. For a casual headshot, everyday wear might be appropriate, but for corporate photography or business photography, wearing more formal attire would be a better bet to make an impact.
You'll also find neutral styles tend to date less with fashion trends, so you don't have to update your photos when your statement earrings suddenly don't look as good as they used to!
Tip #2: Choose a neutral background
Just as you should minimise distractions from clothing or accessories, so too should you minimise distractions from your background. A bright or otherwise intrusive background steals the focus from your face and can make the headshot seem cluttered and busy.
The photographer should also separate the background from you, the subject, so that the background is blurred and soft, leaving the attention on you. This creates a balanced and supporting backdrop, but it also means that you will have to be standing or sitting away from the background. No casual leaning here!
Tip #3: Choose your light wisely
Lighting is everything in photography. Good light can make a headshot glow, while bad light can elongate shadows and create an unflattering and potentially unfair headshot. Opting for soft light and minimising contrasting shadows lets your facial features shine.
If shooting outside, the soft, even light of an overcast day is ideal. If you are shooting indoors, standing near a window allows the light to diffuse over you without being too bright and focused. A better option is to have your headshot taken in a professional studio, where the photographer can control the warmth and brightness of the light with a flick of a switch.
Tip #4: Consider the composition of the headshot
Think about what kind of look you want. Consider what kind of impression you are trying to make. How does your personal brand come across in a visual medium? If you are taking a headshot for business photography, how does your industry or role affect how you want the photographs to look?
Additionally, how close do you want your photograph taken? Just the top half of your torso or so that your shoulders are peeking into the frame. Which way is the light coming in? Should you be facing left or right, or straight on? Speaking with a professional headshot photographer may help you settle on some answers, as their experience will help guide your own creative choices.
Tip #5: Use manual camera settings
While it is tempting to stay with the safe simplicity of the automatic setting, manually changing the aperture, shutter speed and ISO to suit the shoot's conditions gives you much greater control over the final picture.
A professional corporate photographer can finetune their camera to obtain the best possible results. If you aren't used to using manual camera settings, take a few practice shots to check how the settings work and then modify them to work with the available light. However, a professional photographer in a studio will have complete control over the camera settings and the studio lighting.
Tip #6: Prepare some poses
While it's almost always best to be looking directly at the camera for your headshot, the rest of the composition depends on the reason for the headshot, the formality/informality of its intended use and even your personality. Do you want to stand facing the camera straight on, or perhaps sit on a stool turning to the left? Try a number of different poses to see what works and what doesn't.
It may sound silly but practise posing in front of the mirror to get an idea of how different postures and poses will look to the camera.
Tip #7: Relax!
Getting headshots taken can be a daunting and nerve-wracking experience for some people, and tension can easily come across in your photos. Try to take a few deep breaths beforehand or ask your photographer to take a few photos of you making a silly face first to relax and take the pressure off.
Some people may even prefer to have their headshot taken while they are sitting down so that they can relax their posture. Do whatever works for you to get yourself ready and smiling, and your headshots will thank you for it.
Other ideas can be to have a personal sidekick, or hype man, at your shoot that you know can lighten the mood and cheer you up. Play some fun music or find a fun way to cut through any awkward feelings that often come with starting your headshot photography.
Tip #8: Edit your photos
Even the best prepared and skilled photographers edit their photos after a session. Professional photographers with experience in image editing may be able to smooth out the light if required or retouch blemishes. Retouching the image is something that can be discussed with your photographer beforehand.
A wrinkle in clothing, an unfortunate pimple, or other blemishes can be easily erased with image editing software, but ensure you discuss this with your photographer first.
Tip #9: Discuss your headshot with a professional photographer first
The best way to take a good headshot is to find a professional and experienced photographer who can walk you through the processes outlined above. They can discuss your range of choices and provide additional tips and ideas to get your headshot exactly how you intended it.
While the list above gives you a good start on how to take an effective headshot, the in-person experience can make all the difference when it comes to making a professional impression.
Sunshine Coast headshot photographers and studio space
The team at All In Creative has a fully equipped photography studio in Maroochydore on the Sunshine Coast. With years of experience behind the camera, we have the expertise to create the most effective and personable headshots, showing off your unique personal brand while maintaining professionalism.
Our Sunshine Coast studio comes fully equipped with all the photographic equipment necessary to make your next headshot shine.
Contact us about our headshot photography packages or to talk about hiring our studio as your DIY shoot space.
22 Places for your next photo shoot on the Sunshine Coast
Attention, Sunshine Coast photography enthusiasts, models, and businesses!
From breathtaking beaches to charming countryside spots and fantastic indoor studios, we've rounded up the top 22 places for your next photo shoot.
Whether you're chasing the perfect sunset backdrop, seeking stunning landscapes, or getting your Sunshine Coast business photography sorted, this guide has got you covered.
Scroll through our suggested locations for Sunshine Coast…
---
Sunshine Coast Beach photoshoot locations
Kawana Beaches
Any beach access, Pacific Blvd, Buddina 4575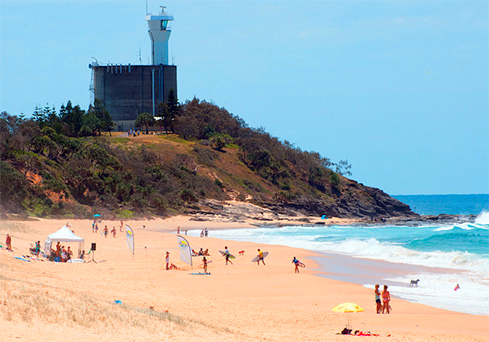 (SOURCE: https://sunshinecoastlifestyle.com.au/activities/point-cartwright-a-shining-point-on-the-horizon)
This stretch of beach, starting from Point Cartwright and ending at Bokarina, has plenty of beautiful scenery for your photo shoot.
It's typically quiet along here, particularly compared to busier areas like Mooloolaba or Noosa. This will give you peace of mind to focus on the shoot at hand, and maybe even make any photography subjects less self-conscious about being captured in public.
Moffat Beach
Seaview Terrace, Moffat Beach 4551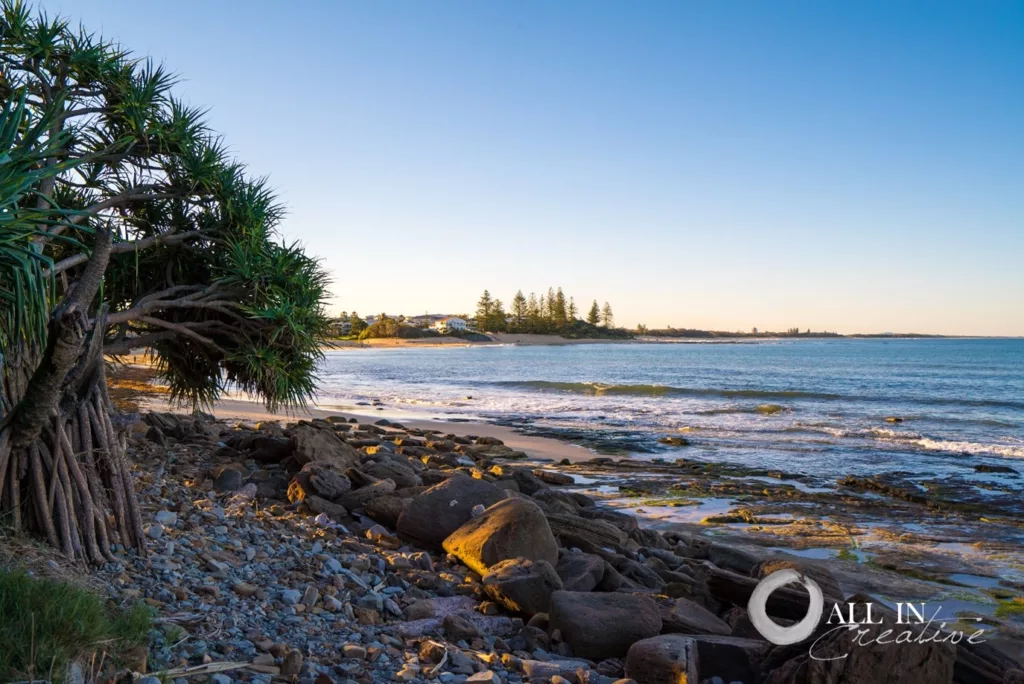 (SOURCE: All In Creative)
Caloundra's Moffat Beach is home to beautiful seaside rocks and breathtaking views of the ocean.
For more variety throughout your shoot, explore Caloundra's unbeatable coastline via the Caloundra Coastal Walk trail, stretching from Golden Beach all the way to Mooloolaba. Plus, Moffat boasts one of the Coast's best picnic spots for those post-shoot feeds.
Tea Tree Bay
Noosa National Park, Noosa Heads 4567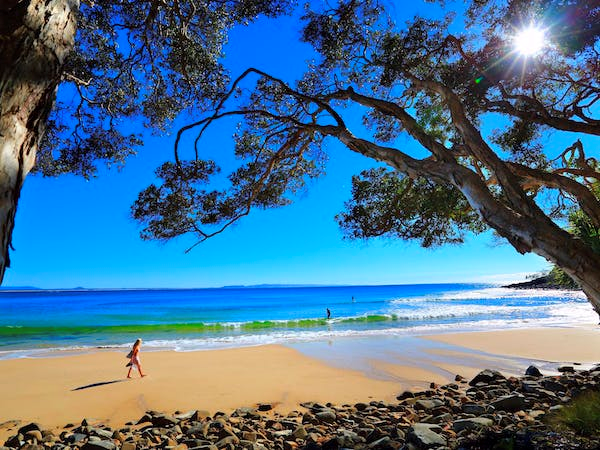 (SOURCE: https://www.queensland.com/tw/zh/things-to-do/attractions/p-584f8dcfaf779cb14de5ee75-tea-tree-bay)
This beautiful spot sits in Noosa National Park, so you'll be treated to a lovely journey through the walking trail as you arrive and exit.
Keep in mind that this spot is unpatrolled and not recommended for swimming, so this photoshoot may have to be entirely land-based. That said, there are gorgeously-shady pandanus trees and flat rocks to add variety to your shoot.
Rainbow Beach
Rainbow Beach Beach Entry, Rainbow Beach 4581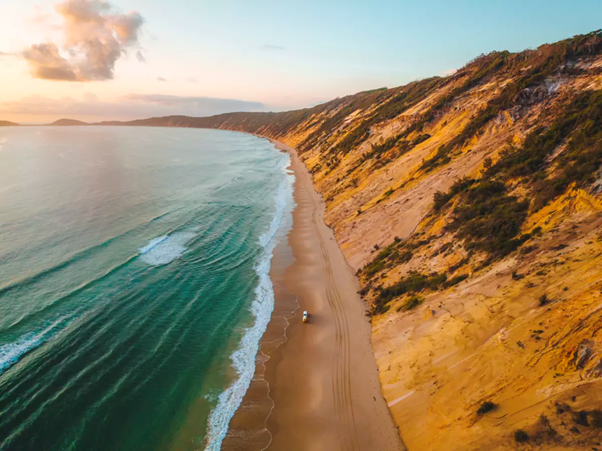 (SOURCE: https://www.queensland.com/au/en/places-to-see/destinations/sunshine-coast/rainbow-beach-and-gympie/rainbow-beach-locals-guide)
This coastal town is the most out-of-the-way spot on our shortlist, but all visitors can testify – it's WORTH IT.
Nestled between Fraser Island and Cooloola Nationa Park, this stretch of beach is contrasted by stunning seaside cliffs and a sub-tropical rainforest along the dunes. If you have a four-wheel drive on hand, why not take it a step further and venture out to Double Island Point for a truly unforgettable photo shoot?
---
Sunshine Coast hinterland photoshoot locations
Mount Ngungun
125 Fullertons Road, Glass House Mountains, 4518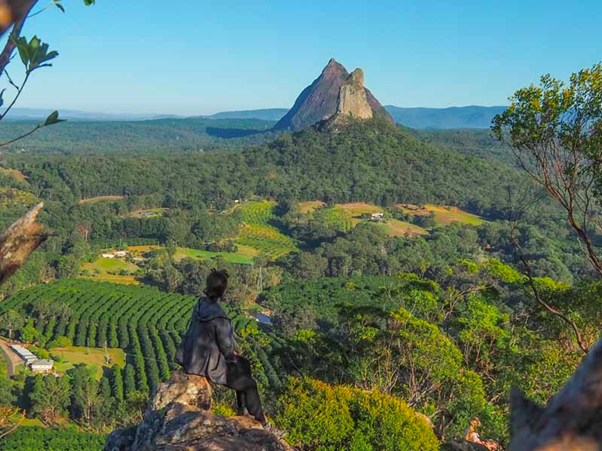 (SOURCE: https://aquariustraveller.com/mt-ngungun/)
Warning: This location requires a bit of a trek, but you'll be thankful you made the effort.
A 2.8km hike to the summit of Mount Ngungun will treat you to a stunning view. Picture this: 360° visual access to the Sunshine Coast Hinterland from high above. You'll feel on top of the world (get it?).
Mary Cairncross Scenic Reserve
148 Mountain View Road, Maleny, 4552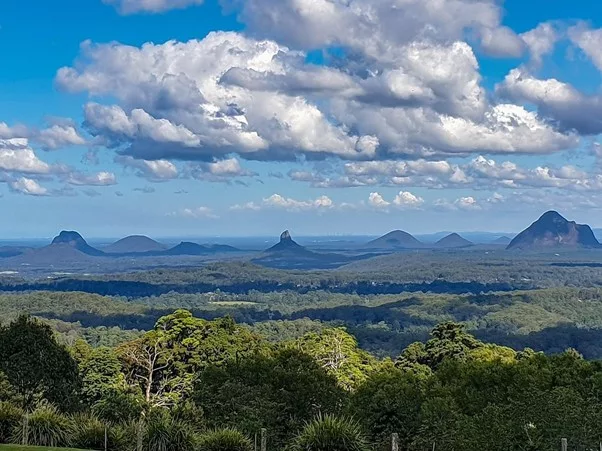 (SOURCE: https://www.tripadvisor.com/Attraction_Review-g499670-d1918432-Reviews-Mary_Cairncross_Scenic_Reserve-Maleny_Sunshine_Coast_Queensland.html )
With 55 hectares of picturesque subtropical rainforest, Mary Cairncross Scenic Reserve can't (and shouldn't) be overlooked.
Overlooking the Glass House Mountains, your photoshoot's backdrop will be filled with centuries-old trees and a thriving ecosystem – almost 400 plant species call this reserve home. The best part? The majority of the reserve's walking tracks are highly accessible, making it perfect for almost any photography subject.
Baroon Pocket Dam
207 Narrows Road, North Maleny, 4552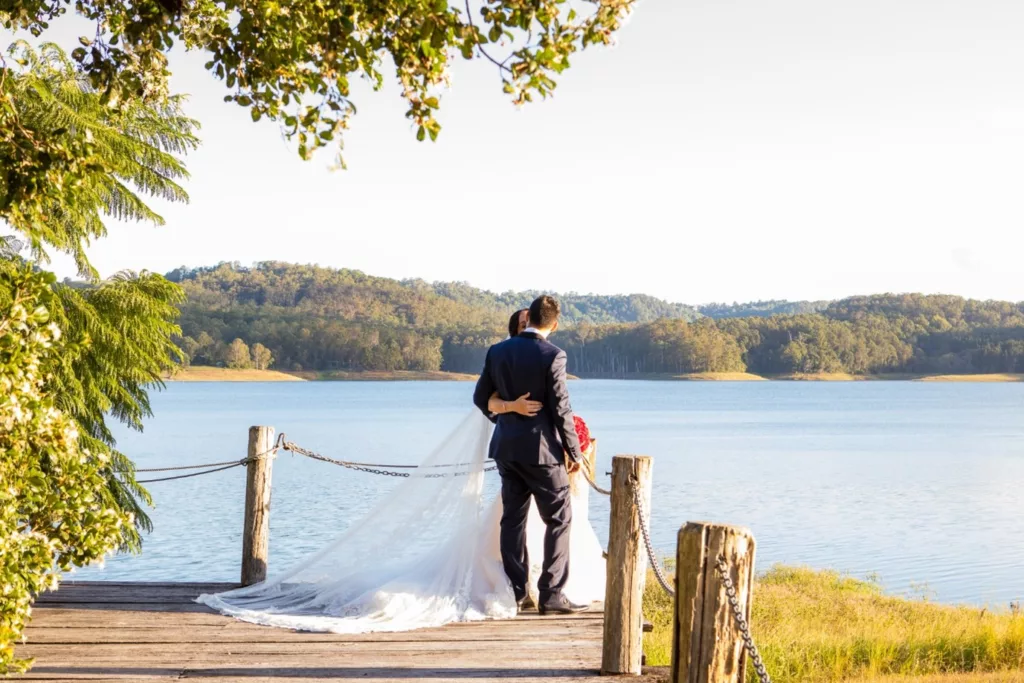 (SOURCE: https://www.vsphotographer.com.au/wp-content/uploads/2018/05/0T1A8240.jpg )
Tucked between Montville and Maleny, Baroon Pocket Dam is a spectacular lake that welcomes swimmers, kayakers, fishing fanatics, and all other kinds of nature lovers. This is close by to Secrets By The Lake, a popular wedding venue that also looks over the dam.
The lake is surrounded by incredible picnic spots, beautiful wildlife, and forest ridges for a more lush background. Simply put, Baroon Pocket showcases everything there is to love about the Sunshine Coast's Hinterland.
Maleny Botanic Gardens
233 Maleny Stanley River Road, Maleny 4552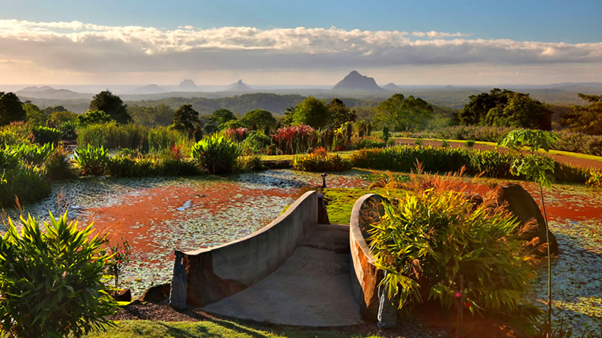 (SOURCE: https://www.malenybotanicgardens.com.au/about-the-gardens/)
Maleny is home to rolling green hills, farms, and stunning views of the Glass House Mountains.
That's not to mention the Botanic Gardens, dotted with gorgeous ponds, plants, and birds. You'll be treated to the most breathtaking backdrop imaginable. Trust us, this unique setting has earned its reputation as the "Jewel of Maleny".
---
Sunshine Coast rainforest photoshoot locations
Robinson Falls
49A Waterfall Road, Nambour 4560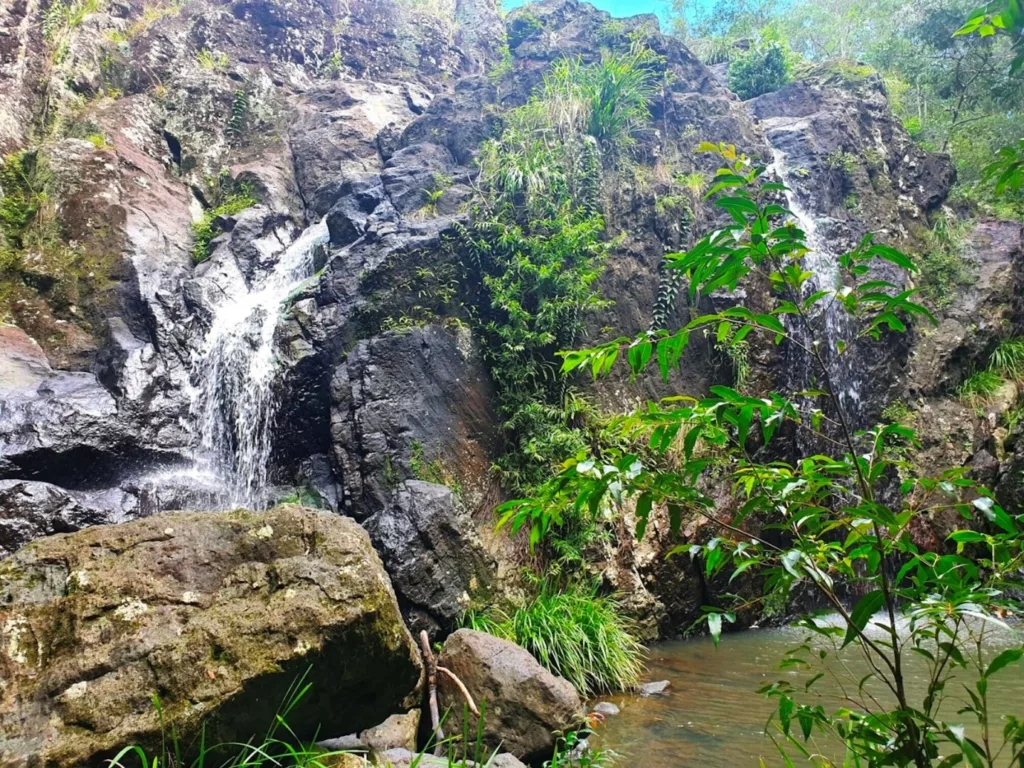 (SOURCE: https://www.asunnierlife.com/home/2020/7/13/robinson-falls-nambours-secret-waterfall)
We're about to spill Nambour's secret – a place to unwind and enjoy the beauty of the Coast's hinterlands from the ground floor.
Robinson Falls at Cliento Park is surrounded by lush greenery, tall and shady trees, a gorgeous waterfall, and a walking trail through the park. It's a relatively short bushwalk to experience an unforgettable sanctuary from the Coast's urban areas.
Kondalilla National Park
Kondalilla Falls Road, Flaxton 4560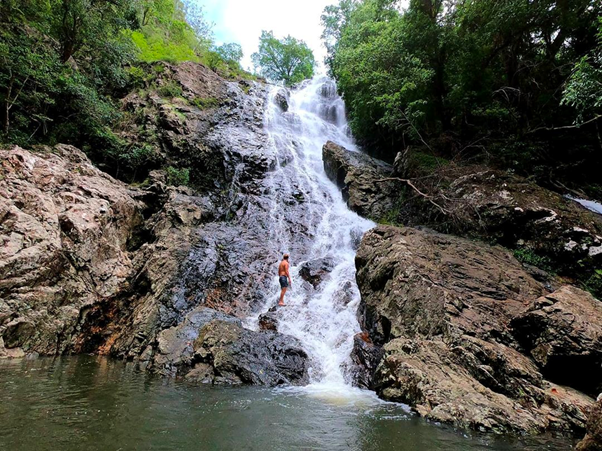 (SOURCE: https://www.queensland.com/gb/en/places-to-see/experiences/nature-and-wildlife/waterfalls/how-to-do-kondalilla-falls)
Another waterfall spot for nature lovers, this time located just 4 kilometres north of Montville.
This location boasts a beautiful 90-metre-tall waterfall, rocky pools, freshwater creeks, and gorgeous greenery. Fun fact: The park gets its name from an Aboriginal word that means "rushing waters".
Buderim Forest Park & Falls
Quorn Close, Buderim 4556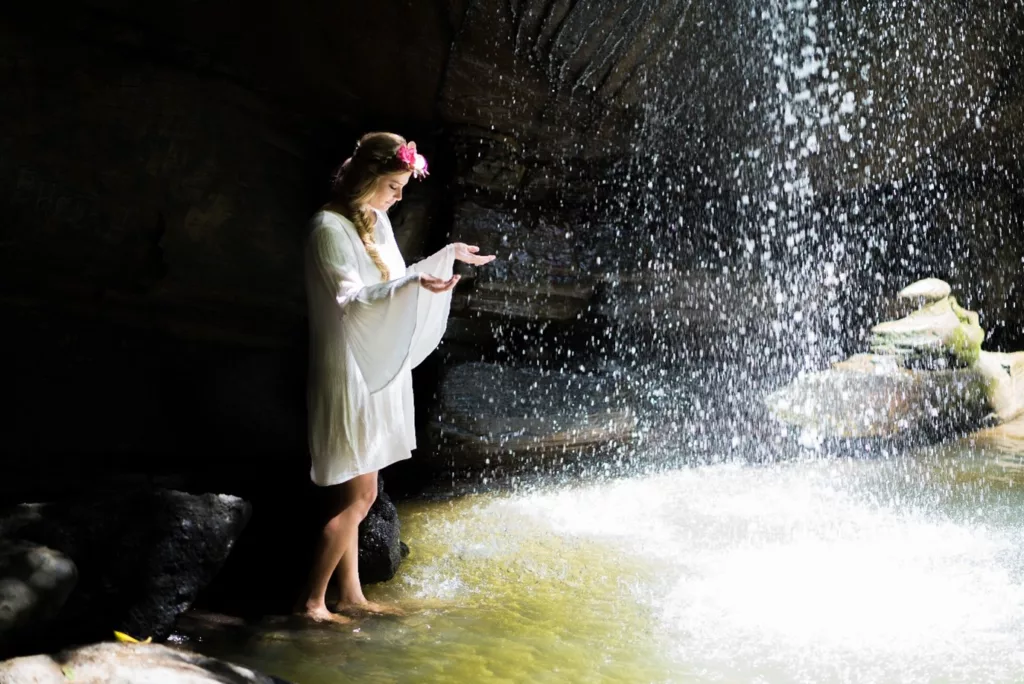 (SOURCE: All In Creative)
Also known as Serenity Falls, this beautiful waterfall cascades on the northern side of Buderim Mountain.
You'll also be treated to giant trees, a beautiful creek, and plenty of rocks for nature-infused posing. If you're looking for a gorgeous backdrop for your shoot's subjects, or you're simply looking to capture a piece of the Sunny Coast's natural beauty, don't skip this gem.
---
Sunshine Coast countryside photoshoot locations
Kenilworth State Forest
Sunday Creek Road, Kenilworth 4574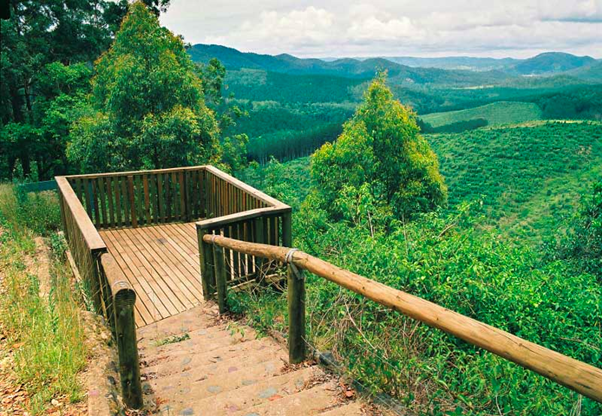 (SOURCE: https://www.australiaforeveryone.com.au/files/qld-se/kenilworth.html)
Kenilworth has gotten famous in recent years for its Country Bakery, but beyond the coffee served in a donut, you'll find a beautiful countryside town.
The state forest runs adjacent to the town, filled with pine trees and eucalypt forests, cliff faces and creeks, and intimate watering holes. You'll find near-unlimited spots for a countryside photoshoot here.
Yandina Station
684 N Arm Yandina Creek Road, Yandina Creek 4561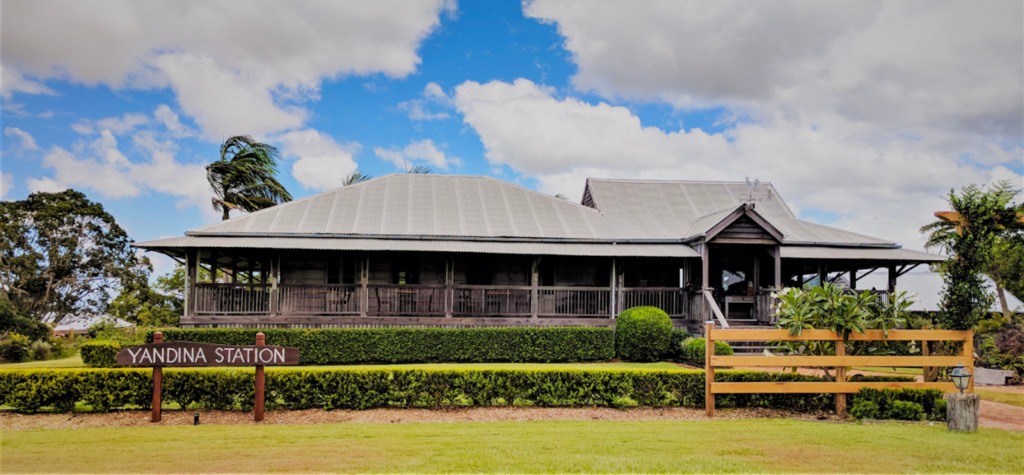 (SOURCE: https://yandinastation.com.au/)
As one of the oldest towns on the Sunshine Coast, Yandina is THE countryside location to visit for your photoshoot.
Yandina Station is a luxury country estate and working cattle property that doubles as a venue for weddings and other functions. You'll be treated to views of Mount Coolum and the Yandina Station's grazing pastures, filled with lush grass and cute cows.
Gerrards Lookout
Maleny-Montville Road, Maleny 4552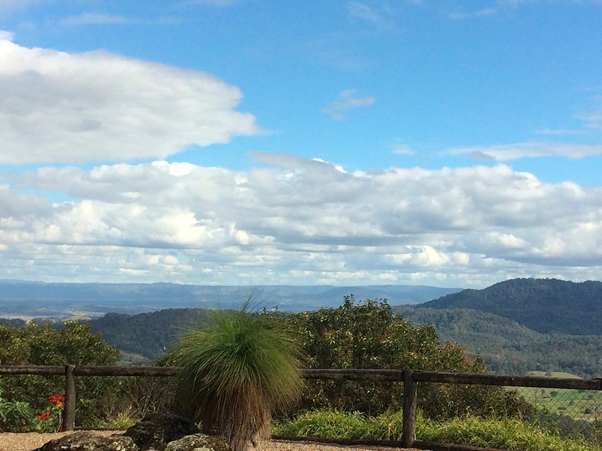 (SOURCE: https://www.tripadvisor.com.au/Attraction_Review-g499670-d7980879-Reviews-Gerrards_Lookout-Maleny_Sunshine_Coast_Queensland.html)
Capture fantastic, panoramic views of the valley in Maleny's quiet and intimate Gerrard Lookout.
Here, you'll find a beautiful plaque that reads: "In memory of Hazel and Charlie Gerrard, who donated the land for this lookout for the enjoyment of the public". Take advantage of the Gerrard's gift to the people of the Sunshine Coast and visit this breathtaking lookout.
---
Sunshine Coast urban backdrop photography locations
Mooloolaba Esplanade
Beach Terrace, Mooloolaba 4557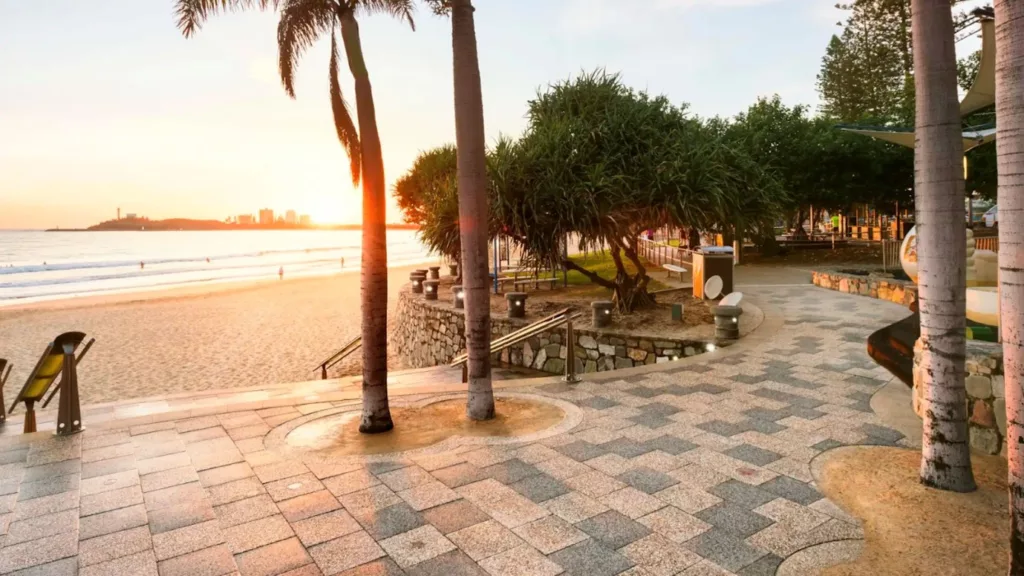 (SOURCE: https://www.brickworks.com.au/articles/products-articles/mooloolaba-esplanade/)
This busy beachside stretch of land is dotted with gigantic trees, views of the coastline, and bustling cafes.
A few blocks away, you'll find the Mooloolaba Wharf, overlooking the canals, boats, and jaw-dropping waterfront homes. It's the perfect blend of coastal vibes and chic ambience for a seaside photoshoot.
Lake Kawana
Sportsmans Parade, Bokarina 4575

(SOURCE: https://www.alltrails.com/trail/australia/queensland/lake-kawana-loop)
With 5 kilometres of water and parkland, Lake Kawana is best suited for an early morning or sunset photoshoot.
You may be surprised to find out that this is an artificial lake because it truly feels meant to be on a natural level. The foreshore boasts paths for cycling and walking, and there are multiple spots for picnics posing with the gorgeous water as your backdrop.
Alex Skate Park
167 Alexandra Parade, Alexandra Headland 4572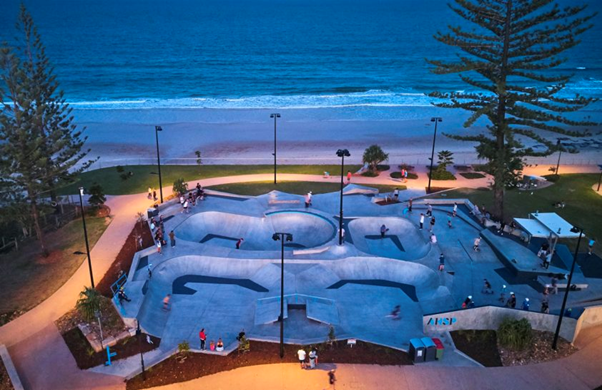 (SOURCE: https://convic.com/projects/alexandra-headland-skate-park/)
Parallel to gigantic Norfolk Pine trees and the beautiful Alexandra Headlands coastline, this skate park is a dynamic background for your next shoot.
This location combines all of the best aspects of the Sunshine Coast's urban areas. You've got the beach right in front of you, gorgeous greenery, shopfronts, and locals enjoying the Coast's famous laidback lifestyle.
Caloundra Coastal Pathway
Esplanade Bulcock Beach, Caloundra 4551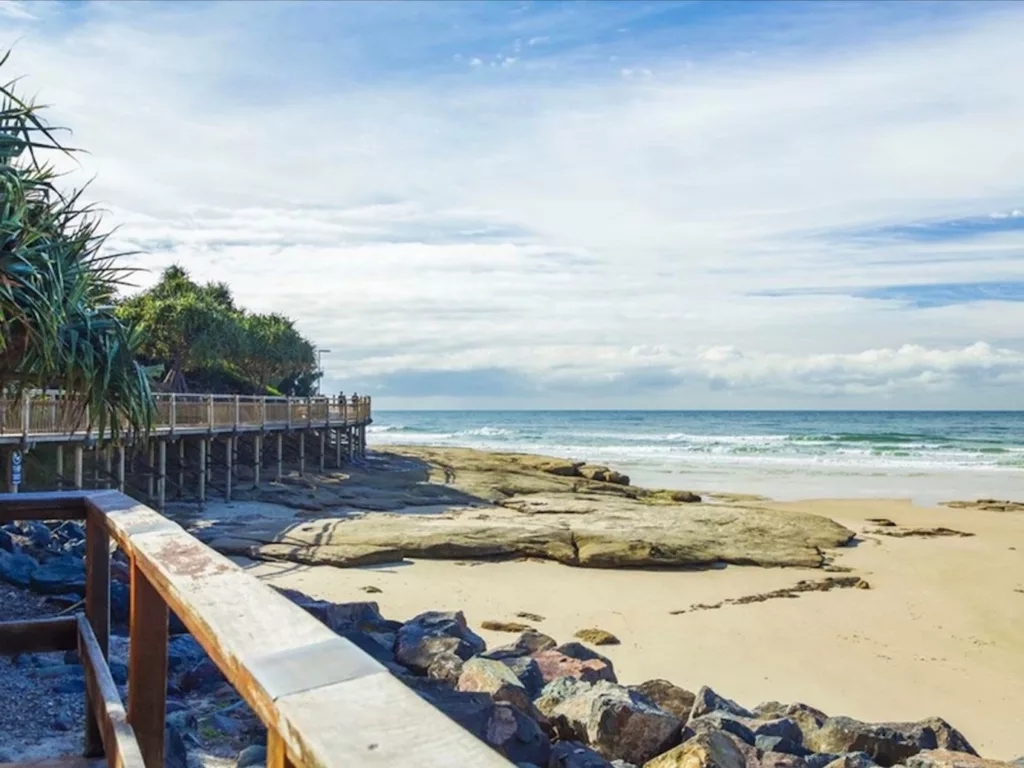 (SOURCE: https://www.queensland.com/fr/fr/plan-your-holiday/journeys/p-56b265b0aeeeaaf773cf8601-caloundra-coastal-walk)
If you're looking for unbeatable views of Caloundra's coastline and a fantastic backdrop of flora, look no further than the Caloundra Coastal Pathway.
This is just one section of a 73-kilometre-long pathway, but the Caloundra area is our favourite for those viewing areas and pause points off the main path. They give you the perfect opportunity to overlook the beach and give your photographs a stellar background.
---
Sunshine Coast photography studios
Suite 202/8 Maroochydore Road, Maroochydore 4558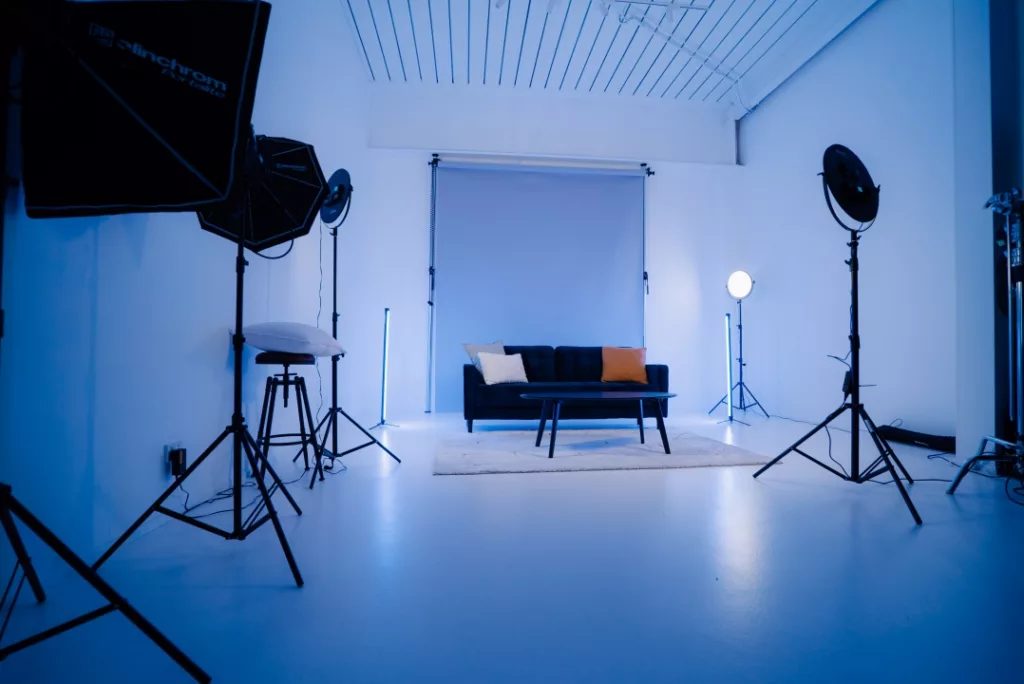 If you want to take your photo shoot to the next level, All In Creative's brand-new studio is ready to make it happen.
Located in the heart of Maroochydore, our premium creative space is available for video production, photography, and podcasting. It includes multiple lights, backdrop options, and plenty of space for creativity.
Whether it's for a personal photoshoot, corporate photography or your next product shoot - the incredible crew at AIC is available to take care of the entire shoot for you. Check out our website for more info!
Shop 2/38 Technology Drive, Warana 4575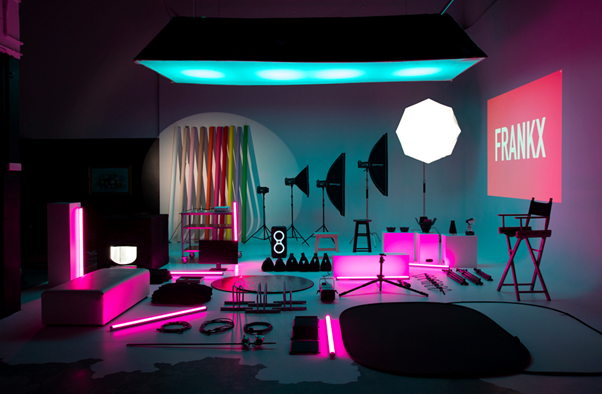 (SOURCE: https://www.frankx.co/)
For bigger shoots that require a massive space to play with, we recommend Frankx! This Warana photography studio and event space was made by creatives, for creatives.
At an additional cost, they even offer behind-the-scenes videography to give your socials exciting new bonus content.
1/95 Eumundi Noosa Road, Noosaville 4566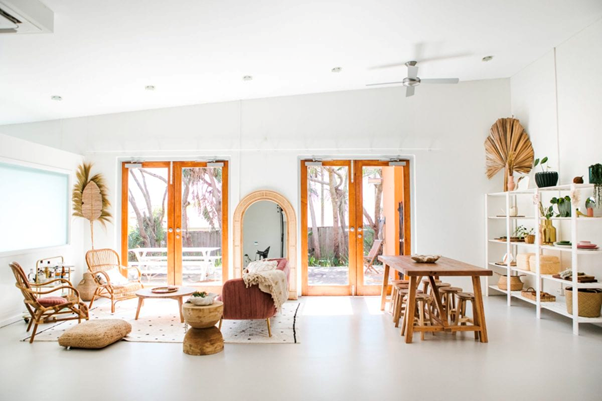 (SOURCE: https://thegoodspacestudio.com.au/)
If you're on the northern end of the Sunshine Coast, The Good Space Photo Studio is an eclectic and contemporary space for your next shoot.
Whether you need a quick shoot or require the space for the whole day, this studio is suited for agencies, artists, content creators, and local businesses. Check out their prop library for some creative inspo to match your shoot's aesthetic.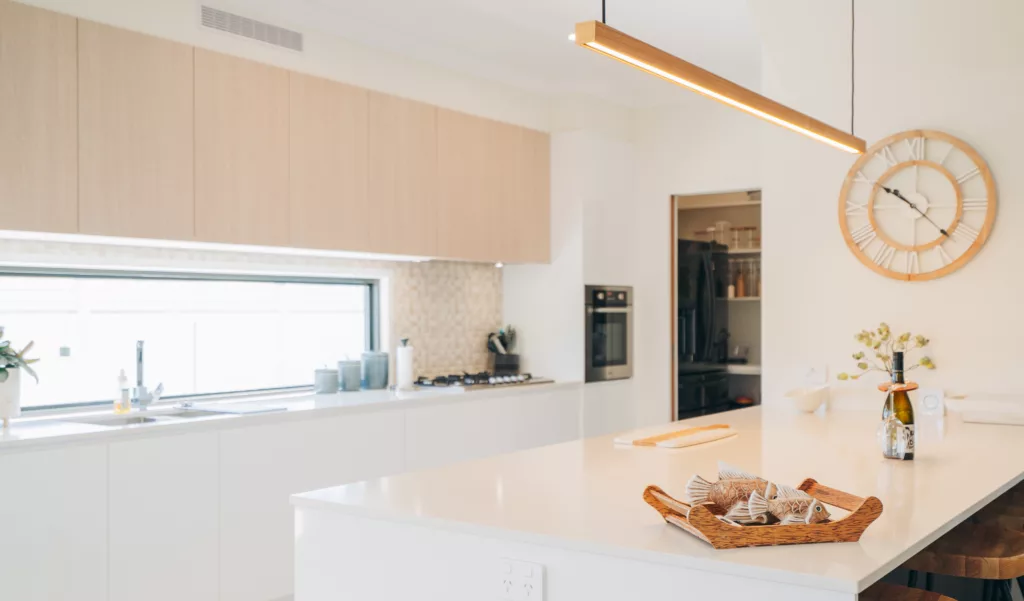 (SOURCE: All In Creative)
If you want an entire space to yourself on your terms, there are hundreds of Airbnbs available on the coast to hire for upwards of a day.
You can get a range of spaces, from modern tiny homes to rustic cottages and giant coastal mansions. Of course, this option requires hiring or owning all of the necessary equipment, so we primarily recommend Airbnbs to freelance photographers and similar creatives.
In fact, at All In Creative, we have a close relationship with an Airbnb management team with access to over 30 Airbnb locations, many styled perfectly for any lifestyle or branding photoshoot on the Sunshine Coast.
Choosing the perfect location for your next Sunshine Coast photoshoot
This list is only the beginning! There are so many beautiful locations on the Sunshine Coast for your photoshoot that it would be impossible to list them all.
Use this list as a starting place, and have a chat with us about other options if you need.  There's also nothing like going for a drive to find the perfect place for your photoshoot.
Your one-stop Sunshine Coast studio
If you're looking for the right indoor studio for photos or videos on the Sunshine Coast, All In Creative is dedicated to making you look awesome. We're creative content specialists who focus on creating media that communicates who you are, what your vision is, and what you're offering in a way that produces results.
Our brand-new Sunshine Coast studio is taking bookings now and is open for everything from DIY hire to a complete photo or video shoot package with all the crew and equipment you need to take your shoot to the next level.
Reach out to us today for more information!