The Sunshine Coast isn't just a slice of paradise; it's a rapidly growing market ripe with opportunities for tradies. In fact, in the 2022/23 financial year, the Sunshine Coast Council reported over 10k building applications and $2.2B worth of building approvals.
The growing trades industry makes it more important than ever to stand out. But gone are the days of relying solely on word-of-mouth or local directory listings. Now you have to compete online, and face the digital marketing battle to reach your target market.
To be the best of the best requires effectively navigating this digital marketing landscape to stand out and hook your ideal clients. Here you'll find some ideas and strategies to skyrocket your marketing and get the results you're looking for!
Photos are pivotol
Pictures speak a thousand words. If you're trying to demonstrate that you do a quality job, then you need quality photos to prove it. Taking professional photos of your work will:
Showcase your craftsmanship - especially with before and after photos
Help clients visualise the possibilities for their own projects
Build trust by helping people see your track record
Act as visual testimonies through a project gallery
Allow you to utilise a range of online marketing resources that require photos (ie. Instagram).
Adds a personal touch and increases the feeling of connection
Helps clients see what goes into your projects, building brand appeal and attraction
Use video wherever you can
Video is the peak content type for digital marketing. Reports show that 66% of consumers consider video the most engaging type of content.
Types of videos that tradies can use for marketing include:
Transformation timelapse
Testimonial videos from clients
Project highlight reels
Project walkthrough videos
Brand collaboration videos to show how you incorporate them into your work
Get Your Business on Social Media
Social media isn't just a playground for fashionistas and foodies; it's a bustling marketplace where everyone, including tradies, can shine.
Misconceptions, like Instagram being unsuitable for plumbers or carpenters, undersell its potential. The truth? Every trade has a story, a process, and results worth sharing. If you're not sure it's for you - read more on our blog about why social media marketing is important for business.
Some of the benefits of having your trade business on social media include:
Being active where people are often searching for recommendations
The added ability for more testimonials and reviews (particularly on Facebook)
Building additional trust with your potential customers who can see more of what you do
The opportunity to communicate with your audience at any time of the day (or night!)
The chance to give people an insight into the behind the scenes of your business and why you're the best
Access to the large local digital reach on the Sunshine Coast, with over 90% of residents active on social media
A pro social media management team will help you put together a strategy that will work. They'll help you use platforms like Instagram, TikTok, LinkedIn and Facebook to showcase your craftsmanship and connect you to new clients. Finding the right social media managers is important to make sure you get the ROI and results you're looking for!
Get Your Website Converting and on Google
Your website acts as your digital front door, a place where potential clients can explore your services, assess your professionalism, and get in touch. It's more important than your business card used to be!
But a website alone isn't all you need. You need your website to be searchable on Google, with search engine optimised (SEO) pages that ensure that when people are searching for you, they find you first.
Think about it - when was the last time you searched for a Sunshine Coast business and went past the first page of recommended search results?
As a trades business, you need a website that can be found before your competitors, that then converts your traffic into sales and bookings. It's a two-fold process, and one is not more important than the other. If you have a high-converting website that no one can find, it's not going to work. And if you have a website that doesn't convert customers, then it doesn't matter who finds it, it also won't work!
So how do you get both? We recommend working with a digital marketing agency, with experts in both web design and SEO. Keep in mind, however, that though they are similar services, they are extremely different skills!
Boost Your Reach With Online Advertising
If you've got all of the above marketing tools already flowing, with great visuals, videos, social media strategies and a good website, then your next step is to boost your content with ads!
Platforms like Meta and Google ads are like the high-precision tools in your marketing toolbox. They enable you to craft advertisements that speak directly to your target audience.
Through Meta and Facebook Ads, you can tap into the vast social network to showcase your projects and connect with customers who value your craftsmanship. Google Ads propels your services into the spotlight when potential clients search for your tradie expertise.
These platforms can deliver extremely high results, but keep in mind you need to use them correctly! Otherwise, the ad spend money you are shelling out could be going to waste.
The best way to make sure that your ads are high-quality, client-converting power tools is to work with someone who knows how to use ads for tradies. Even better, get a local Sunshine Coast ads manager to help, who knows the area and comes with the extra insight of being a local!
Don't Say Goodbye to Every Traditional Marketing Tool
While we could write all day about how important your digital marketing is, there is still a time and place for your 'old school' traditional-styled marketing.
For example, use well-designed picket signs out the front of your projects so people know who it is that's doing the work. While you're there, letter-box the neighbours with some fliers so that when they find themselves wondering who is making their neighbours house, garden or construction project look so good, they'll know it's you! And never underestimate the power of a good car wrap while you're stuck in the Nicklin Way traffic!
Just make sure you put the same effort into designing your printed marketing as your digital, keeping a consistent style across both the digital and traditional spaces. This is where high-quality project photos remain imperative!
Remember, you don't have to do it all!
Running a trades business can be all-consuming, with so many tasks to juggle. From quote enquiries to invoices and ordering supplies, it's easy to let marketing slip to the bottom of the list. Especially in an area like the Sunshine Coast that is growing so quickly!
You don't have to do it all! In fact, if your marketing is done right, the results should easily pay for themselves while still expanding your business and profits. Get help from a good marketing agency to take the weight off your shoulders.
All In Creative: Your Masters of Digital Content Marketing
Get the best Sunshine Coast content marketers working on your trades marketing so you don't have to!
At All In Creative, we specialise in crafting tailored strategies that resonate with the Sunshine Coast community. We'll elevate your business, with a serious focus on meaningful results.
Our team is small enough that you aren't working with an agency where you are just another number, but big enough that you have access to a range of specialists, like our Sunshine Coast video experts, local graphic designers and website builders.
With a finger always on the pulse of marketing trends and a deep understanding of the local commercial ecosystem, we are here to elevate your trades business.
Experience marketing mastery with All In Creative. Get in touch with us today!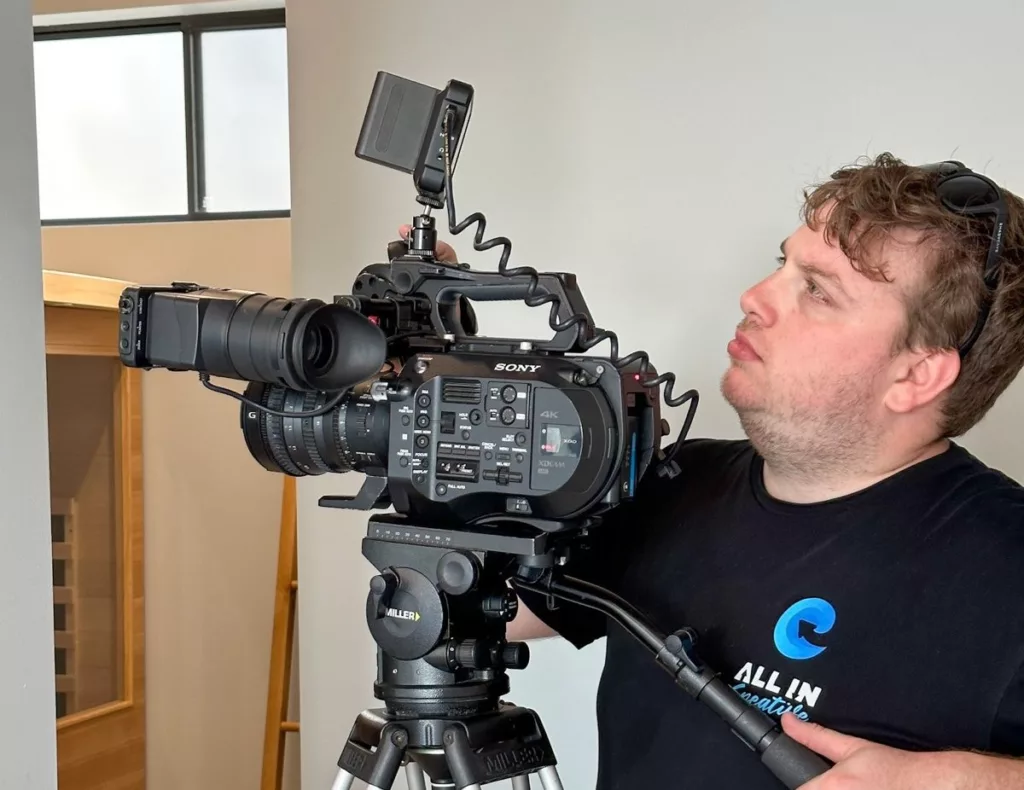 Navigating the world of social media management? It's a jungle out there! New agencies are popping up all the time, each offering the "ultimate" social media strategies.
But here's the real challenge: sifting through the buzz to find a team that doesn't just go through the motions but really rocks the social media stage.
It's about snagging a sidekick that's all about smart moves, savvy strategies, and real results.
In this article, we'll go over the six qualities you need to look for when picking the right social media management team for your business.
1. Expertise Beyond Aesthetics
Ever met a social media "guru" who's all about the glitz and glam, but can't vibe with algorithms, insights, or customer engagement?
When choosing your social media maestro, you want the whole shebang! Look beyond the snazzy posts and dig into whether they've got the smarts – a real understanding of how social media works, short-term and long-term.
It's about cracking the code of what makes your audience click and will give you a return on investment, not just flashing pretty pictures and hoping for likes. So, hunt down a team that's as brainy as they are artsy.
2. Results-Oriented Approach
You wouldn't hire a team of tradies who couldn't deliver the results you want, right? The same goes for choosing a social media squad!
Sure, likes and follows feel good, but they don't pay the bills. You want a crew that's all about real, tangible results – driving sales, scoring leads, and boosting your brand. It's not just social media, it's social media with a mission!
Your dream team should prioritise strategies that spark growth for your business, turning likes and follows into sales and loyal customers.
3. Business Acumen
It's all about getting a crew who don't just talk the talk but walk the walk. You want a team slick with their social media strategies, but who's also got the business brains to back it up.
They should be all up in your business (in a good way!), figuring out what makes your potential customers click, and tailoring strategies that align with your brand's unique goals and needs.
It's like getting a bespoke suit – it just fits better. Your agency should be a whizz at weaving your distinct business objectives into a killer social media game plan that's as unique as you and your brand!
4. Customised Social Media Strategies
Find an agency that treats your business like the one-of-a-kind wonder it is! No off-the-rack strategies here; you want services that fit your unique vibes and visions.
The right agency will understand your business values and objectives, and they'll whip up strategies as individual as you are. They'll dive into the deep end of your business dreams crafting a custom plan that's right for you.
A bit of creativity, a dash of innovation, a savvy social media team, and voila! A perfectly tailored digital marketing strategy. The right agency will celebrate and elevate your extraordinary essence.
5. Constant Evolution and Adaptability
Cruise with an agency that rides the social media waves like a pro surfer! The digital seas are ever-changing, and you need a crew that's not just keeping up, but blazing trails.
Your dream team should be social media shapeshifters, morphing strategies with each new trend, algorithm twister, or platform pop-up. They're not just in the game; they're game changers, turning every curveball into a home run.
They'll keep your brand boogying smoothly on the dance floor of digital dynamism, ensuring you're always in step with the latest social media moves. So, align with the adaptability aces who'll keep your social sails smoothly navigating the seas of change!
6. Effective Communication
Unlock a collaboration where clarity reigns supreme! Seek a social media squad that keeps you in the loop with transparency and consistent check-ins.
It's about engaging in a groovy tango where each step, twirl, and triumph is shared in real time. Your ideal team isn't about mysterious moves behind the curtain. Instead, they fling it open, welcoming you and ensuring you're never left in the dark.
The right team is all about offering insights, giving you updates, and delivering victories. Find a partnership where open, ongoing communication makes your social media soar!
All In Creative: Strategy, Expertise, and Results
We are not just your average social media maestros, but architects of awe-inspiring, results-driven strategies.
There are no cookie-cutter campaigns here! Our secret sauce? Tailored tactics that align perfectly with YOUR business goals. We're all about dazzling designs intertwined with the nuts and bolts of serious number crunching.
At All In Creative, art meets algorithm, innovation intertwines with insights, and your business is next in line for a steady burst in engagement and sales (or whatever it is you're looking to achieve!).
Finding Your Perfect Social Media Ally
If you've made it this far, you already know that your business needs social media, but when choosing the right social media management team, you have to look for a perfect fit. Find a team that goes beyond the surface, offering more than just pretty posts and hashtags. You want strategists who will dive deep into understanding your unique business needs, always aiming for real, tangible results.
Find a crew that's in it for the long haul, adaptable and always on top of the latest digital trends. Communication is key; make sure they keep you in the loop with clear updates and progress reports.
Your ideal ally will be an extension of your business, dedicated to achieving your specific goals and making your vision come to life in the digital world.
So, make your choice, get ready to collaborate, and watch your business thrive online!
Embark on a Successful Social Media Journey with All In Creative
Dive into the dynamic world of social media with All In Creative as your guide! Elevate your online presence with our blend of eye-catching aesthetics and robust business strategies.
We're not just about likes and follows; we're a social media management agency committed to delivering tangible results that propel your business forward.
With a Sunshine Coast based studio, and years of practice working remotely, we can work with your local brand, or your big national corporation. We've had proven success with businesses of all sizes.
Get in touch with us today and let's craft a social media strategy that resonates, engages, and converts!
Are you wondering how to make your Sunshine Coast social media take off, or how to do it better? This blog is here to help!
The power of social media is undeniable. From small cafes in Noosa to bustling businesses in Brisbane, every brand in Australia is vying for a slice of the online audience pie – and the Sunshine Coast is no different.
Here you'll find some ways social media marketing on the Sunshine Coast can help you, the social media platforms you've got to choose from, and some examples of businesses doing it well to draw inspiration from!
But first - what is Social Media Marketing?
In the digital world, social media marketing stands out as a key player. At its core, it's the art and science of promoting products, services, and brands on social media platforms.
By leveraging channels like Instagram, Facebook, LinkedIn, and more, businesses can connect directly with their audience, build brand awareness, and even drive sales.
But it's not just about posting pretty pictures or witty captions; it's a strategic approach, where content is curated and tailored to appeal to a target audience, encouraging engagement and fostering connections.
For Sunshine Coast businesses, it's an invaluable tool to navigate the world of online marketing.
How Social Media Marketing on the Sunshine Coast Can Help…
Tapping into social media marketing offers many benefits for businesses, especially here on the Sunshine Coast. Let's dive into a few:
Reach: With millions using platforms like Instagram and Facebook daily, your potential audience is vast. Extend your brand's reach, and capture the attention of locals and visitors alike.

How do we know there's a social media market to reach on the Sunshine Coast? Just check out some local groups like the Sunshine Coast Community Board with over 100k members! Or this Sunshine Coast Instagram page with over 77k followers! There are plenty of local Sunshine Coast people to reach on social media!


Engagement: Social media isn't a one-way street. Engage in conversations, respond to comments, and truly connect with your audience. This lets you build relationships and trust which is key to social media success.

How do we know this works for the Sunshine Coast? The research shows that over 72% of social media engagement happens on local pages - meaning that people are more likely to engage with content geographically close to them.  So if you are a Sunshine Coast business targeting Sunshine Coast people - it's a no-brainer that engaging with your customers online is important!


Leads and sales: Quality content, paired with effective strategies, can drive users to explore your products or services further, turning them into potential leads.

How do we know this works for the Sunshine Coast? Geo-targeting is an important part of social media marketing - whether you're just using hashtags to link your Instagram posts, or doing a full-on PPC Meta ads campaign! Your social media strategy can specifically target Sunshine Coast people - making it an important key for your business marketing plan. So if you're a Sunshine Coast business that works locally, targeted lead generation can give you great success.


Branding: Consistency in posts, stories, and ads solidifies brand identity. Over time, your brand becomes recognisable, associating itself with quality, reliability, or whatever your business embodies.

How does it work for the Sunshine Coast? What better place to match your branding?! Whether your imagery follows a moody, hinterland theme, or a bright coastal aesthetic, branding on the Sunshine Coast is easy to do with photography for social media.
Harness these benefits and watch your Sunshine Coast business soar to new heights!
Popular Social Media Platforms for Sunshine Coast Businesses
The vast world of social media boasts a range of platforms, each catering to different audience types and offering unique features.
Here's a quick dive into some of the heavy hitters that you might consider for your business' Sunshine Coast social media - and further below we'll show you some businesses that have made each one work!
Facebook: The All-Rounder

Audience: A mix, but increasingly popular with the 25-55 age bracket.
Features: From business pages, groups, and stories to marketplace listings, it's a versatile platform with a broad reach and detailed advertising options.

Instagram: The Visual Virtuoso

Audience: Mostly Millennials and Gen Z, with a strong focus on visual content.
Features: Stories, reels, IGTV, and a shop feature for businesses to directly list products.

LinkedIn: The Professional's Playground

Audience: Professionals, B2B, and industry leaders.
Features: Company pages, job listings, articles, and a more formal networking environment.

Pinterest: The Creative Catalogue

Audience: Those seeking inspiration, often for fashion, DIY, and recipes.
Features: 'Pins' that often link directly to products or blogs, creating a visually-driven search engine.

YouTube: The Video Vanguard

Audience: Broad, but heavy on Millenials and Gen Z.
Features: Video uploads, live streaming, monetisation options, and YouTube shorts for quick content.

Twitter/X: The Rapid Responder

Audience: News enthusiasts, celebrities, and anyone keen on real-time updates.
Features: Short, snappy posts, retweets, and trending topics for immediate engagement.

TikTok: The Never-Ending Scroll-Stopper

Audience: Primarily Gen Z and younger millennials, but older demographics are rapidly joining.
Features: Short-form video content with a vast array of creative tools, viral challenges, and a unique algorithm that offers even new users a chance at virality.
Examples of Sunshine Coast Social Media Accounts by Businesses
Here are some Sunshine Coast social media pages of businesses for each platform to show you how it can work!
All In Creative – Your Local Sunshine Coast Social Media Management Experts
Navigating the dynamic world of Sunshine Coast social media can be a whirlwind, especially when aiming for that genuine local touch. Why not partner with those who live and breathe this locale?
At All In Creative, we understand the heartbeat of the coast, blending global social media trends with local nuances. Our expertise ensures your brand doesn't just join the digital conversation, but leads it with authenticity and flair.
If you're set on making waves in the digital landscape while staying true to the coastal spirit (and your brand values), we're just a chat away. Reach out to us today!
Have you ever felt overwhelmed when staring at your business social media accounts?
Maybe you've considered hiring a Gen Z family member who's always on their phone, or you've bookmarked some freelancer profiles while browsing Fiverr. And that's not even before thinking about the expertise and resources that come with a digital marketing agency.
In the digital era, deciding who mans the ship of your online brand can be a real challenge. Dive in as we spill the tea on the pros, cons, and candid realities of each option for social media management!
What are your different social media management options?
Let's decode your three main options: Doing it yourself, contracting a freelance content creator, or hiring an agency.
DIY. The Do It Yourself approach is all about diving into the social media pool with your own hands. Whether you're personally crafting posts as a small business owner or bringing someone on board just for marketing, DIY means keeping things in-house and direct.
Freelancers. Freelancers, often described as 'content creators' manage your social media accounts all by themselves. They're self-sufficient and avoid your payroll, all while bringing a personalised touch to your brand's online presence.
Agencies. The all-star teams of the social media world. A social media agency is often made up of a team of dedicated social media professionals, from account managers and marketing strategists to content designers and caption writers. They work collaboratively to amplify your brand's voice, backed up by high-level expertise and resources.
Pros and Cons of each social media management option...
Every approach to social media management brings its own sets of strengths and challenges. Let's break down the highs and lows of each to help you pinpoint the best fit for your brand.
DIY Social Media
Pros
Cost-effective: There are no external hiring or management costs.
Full control: Direct control over content, with no waiting time for approvals or revisions.
Personal touch: If you're personally doing the management yourself, your personal touch is easily conveyed.
Cons
Time-intensive: Managing social media can be time-consuming, especially without prior experience.
Learning curve: Requires time and effort to keep up with changing trends and platform algorithms.
Potential inconsistency: Without a dedicated team or plan, posting can become irregular.
Lack of strategy: Many people who try and DIY their social media management don't have the skills or experience to build a functioning strategy for business marketing.
Freelancing Social Media Manager
Pros
Specialised skills: Many freelancers are experts in specific areas of social media.
Flexibility: Typically more adaptable to specific needs or changes in content and trends.
Saves time: Delegates the responsibility of social media management, freeing up your time.
Cons
Varied expertise: A freelance content creator might excel in visuals but lack in other areas like social media strategy or captioning.
Limited resources: Individual content creators will only have access to their personal skills and resources, unlike an agency with access to a whole team of people's skills and expertise.
Costs: While less expensive than an agency, it's still another ongoing cost for your business.
Reliability concerns: A single point of failure. What happens if an emergency comes up or they're sick? You are relying on a single person to manage what should be a largely successful part of your business marketing.
Social Media Management Agency
Pros
Diverse expertise: Agencies bring together specialists in every facet of digital marketing and social media.
Consistency and reliability: With a team in place, there's always someone to handle tasks even when some people are unavailable.
Holistic strategy: Understands how social media fits into broader marketing strategies, with experience working in other marketing areas.
One-stop solution: Multiple digital marketing services can be packaged together, including paid advertising, professional content creation, website development, SEO and other digital services.
Unlimited potential: Want to get your brand on Facebook, Instagram, Twitter/X, Threads, TikTok, Pinterest, Reddit and LinkedIn all at once? With access to a whole team of people, you aren't going to overwhelm a single social media account manager.
Vast network: Access to a wider range of creators, influencers, and social media management tools that DIY and freelancers often can't afford on their own.
An understanding of ROI: Agencies are fluent in the digital marketing space and know how important ROI in marketing is for businesses. Content creators may see followers or views as 'success', whereas an agency knows that your business relies on results related to your business's success.
Cons
Cost: Generally, agencies are the priciest option (but arguably worth it for the value you get)
Getting to know you: Sometimes the beginning phase of working with a social media management agency can be more difficult than doing DIY or working with a single freelancer, as you have a whole team of people who need to get to know you. Make sure your agency has a proper 'intake' system to make this easy!
How to choose the right social media management option
Where do you begin?
If you're leaning towards DIY, remember that it's not just about posting the occasional picture or tweet. It's about understanding algorithms, engagement tactics, and analysing metrics. It's a steep learning curve and demands your time and dedication.
Considering a freelance content creator? It's not merely about hiring them and then setting things on autopilot. It involves consistent communication, providing feedback, and managing schedules. You're liaising directly, ensuring your vision aligns with their execution.
With an agency, you're tapping into an ensemble of professionals, each specialising in their own area of social media management. While it does come at a price, remember you're playing for a comprehensive service that typically ensures consistency, a better chance at results, wide-ranging skills, and minimal stress.
Ultimately, your choice boils down to a blend of time, expertise, budget, and the level of personal touch you desire. Find the best possible balance for your business's future success.
Struggling to navigate the ever-changing social media landscape?
Let's face it: social media is like digital weather – forever changing and occasionally unpredictable.
Each year, we see new platforms emerge, algorithms shift, and user preferences evolve. For businesses, it's not just about creating content – it's about ensuring that your content aligns with the current trends and platform nuances.
When you opt for DIY or rely on a social media freelancer, it can be challenging to keep up with these whirlwind changes. With every algorithm tweak or new feature launch, you're tasked with recalibrating your strategy.
On the other hand, social media agencies often have dedicated research teams and tools, ensuring that they're always on the cutting edge of the latest changes.
Staying updated isn't just about keeping up – it's about capitalising on new opportunities and preventing your brand from getting lost in the digital shuffle.
What's the best option for optimum success?
Each option offers unique benefits, but if simplicity and optimal ROI are at the top of your wishlist, an experienced digital marketing agency truly stands out.
By partnering with marketing professionals, you're giving your brand the best possible advantage, maximising engagement and conversion rates to help your business grow.
All In Creative – Your Sunshine Coast Social Media Management Experts
Looking for an experienced, on-shore social media management agency?
Our Sunshine Coast social media management team is made up of Australian experts with a wide range of skill sets, from strategy specialists to account managers, designers and professional writers.
We are already working with big national brands, right down to small start-up social media accounts that are just getting started, and we pride ourselves on getting results that help grow your business.
Talk to us today about how we can build you the perfect social media strategy for your business, budget and industry, and execute it to get you results.
We are here to make you look awesome!
Have you ever pictured your business promo looking like it's straight out of a glossy magazine or blockbuster movie?
Forget the staged, sterile backdrops; the Sunshine Coast is your ticket to a cinematic masterpiece. And here's the best part: you don't need a Hollywood budget to make it happen.
With the right location, even a simple product shoot can feel like a sun-soaked piece of art.
Ready to give your brand the star treatment it deserves? Dive in as we unwrap the top spots on the Sunshine Coast to catapult your business video from "meh" to "marvellous".
Onsite Filming: Home is where your brand is
When it comes to creating a genuine connection with your audience, nothing beats the authenticity of your own turf.
Onsite filming at your business or office location offers an invaluable peek into the heart of what you do. It's like extending a personal invitation for viewers to step into your world.
Not only does this build trust, but it also infuses your promo with a unique brand flavour that generic backdrops can't match.
Bring in backup
Worried about lighting, acoustics, or other technicalities? With a professional Sunshine Coast video team in tow, there's nothing to stress about.
Armed with portable lights, sound equipment, and a vision, a video production team can transform any corner of your workspace into a cinematic masterpiece.
Let your locale be the star; after all, there's no place like home.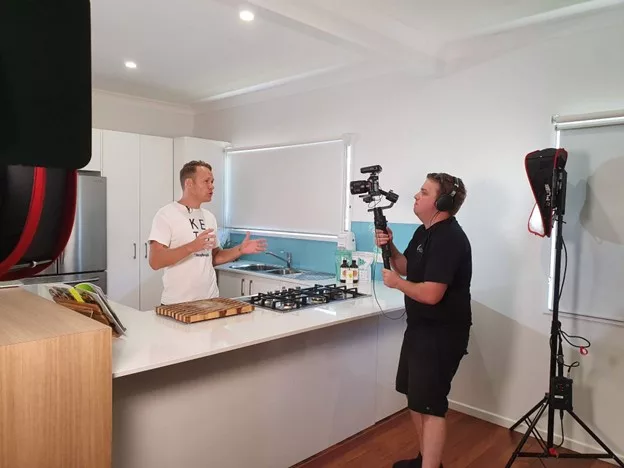 Out & About: Embracing the Sunshine Coast Spirit
The Sunshine Coast isn't just a region. It's a vibe, a spirit, and an endless backdrop of cinematic gold. From pristine beaches to vibrant urban streets, there's a locale here to elevate every brand's story.
Dive into these top Sunshine Coast shoot locations, and let the Sunshine Coast charisma infuse your next promo shoot.
Mooloolaba Beach
This iconic sandy haven is the epitome of the relaxed Sunshine Coast vibe. Its pristine shores and turquoise waters offer a captivating setting, perfect for businesses seeking a classic coastal backdrop.
Noosa National Park
A mosaic of serene coastal paths and lush rainforests. Whether it's the gentle crash of waves or the aura of ancient trees, this location exudes tranquillity, making it ideal for a serene, nature-infused promo.
Caloundra's Bulcock Street
Representing the Sunshine Coast's evolving urban soul, this lively stretch buzzes with activity. The fusion of shopfronts, alfresco dining, and locals on the go creates a vibrant tapestry perfect for an energetic business promo.
The Glass House Mountains
These iconic formations rise majestically against the sky, offering a visually striking contrast to the region's beaches. Their silhouette can lend your video a touch of awe-inspiring natural drama.
Maroochy Botanic Gardens
Amidst the gardens, you're enveloped in a subtropical splendour. The mix of unique flora, art installations, and winding pathways makes it a serene oasis ideal for businesses promoting wellness or natural products.
Eumundi Markets
A bustling space with the Coast's artsy spirit. The kaleidoscope of stalls, spirited local musicians, and artisan crafts can provide a backdrop radiating local character and vibrancy.
Cotton Tree Esplanade
Moving away from the vast ocean, the serene Maroochy River offers a tranquil setting. This spot is a haven for reflection, with gentle waters and anchored boats – perfect for businesses looking for a calm backdrop.
The Sunshine Coast Hinterlands
Places like Maleny and Montville ooze rustic charm. Rolling green pastures, quaint townscapes, and panoramic vistas make the Hinterland a dreamy setting for businesses looking for a romantic countryside touch.
Ocean Street, Maroochydore
The heart of urban nightlife and culture on the Coast. This bustling street, dotted with modern cafes, bars, and vibrant street art, screams contemporary and hip, catering to brands keen on a youthful and dynamic vibe.
With each of these spots, the Sunshine Coast offers a palette of visual flavours ready to amplify your business's message.
The Sunshine Coast Studio Experience
Stepping into a professional studio is like entering a realm where the magic of video meets true marketing potential.
Unlike unpredictable outdoor settings, a studio offers complete control. No gusty winds to mess up that perfect hairdo or unexpected rainclouds rain out your photoshoot.
Studio environments are also insulated from external noises, which means crystal clear audio every single time. No honking cars or distant chatter – just your message, loud and clear.
But beyond the technical advantages, there's an undeniable prestige in studio shoots. It's the perfect choice for businesses looking to create a timeless piece that showcases professionalism and personality.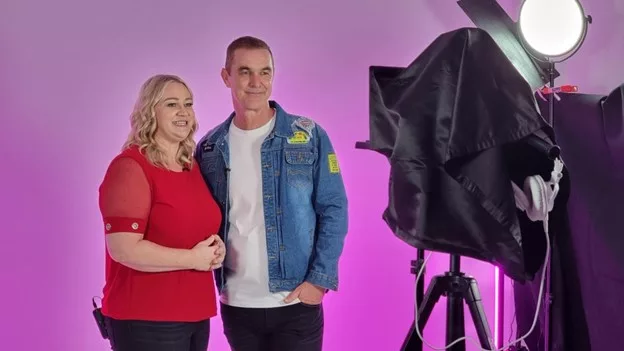 Studio filming can be a great option if you are making a promotion for your business with a few excellent options for your next Sunshine Coast studio booking!
Some local Sunshine Coast studio spaces to consider for video include:
All In Creative - a small studio in the centre of Maroochydore, perfect for corporate videos, training videos, podcast recording and product shoots.
Frankx - a larger studio in Warana if you need the space for something big with a cyclorama wall.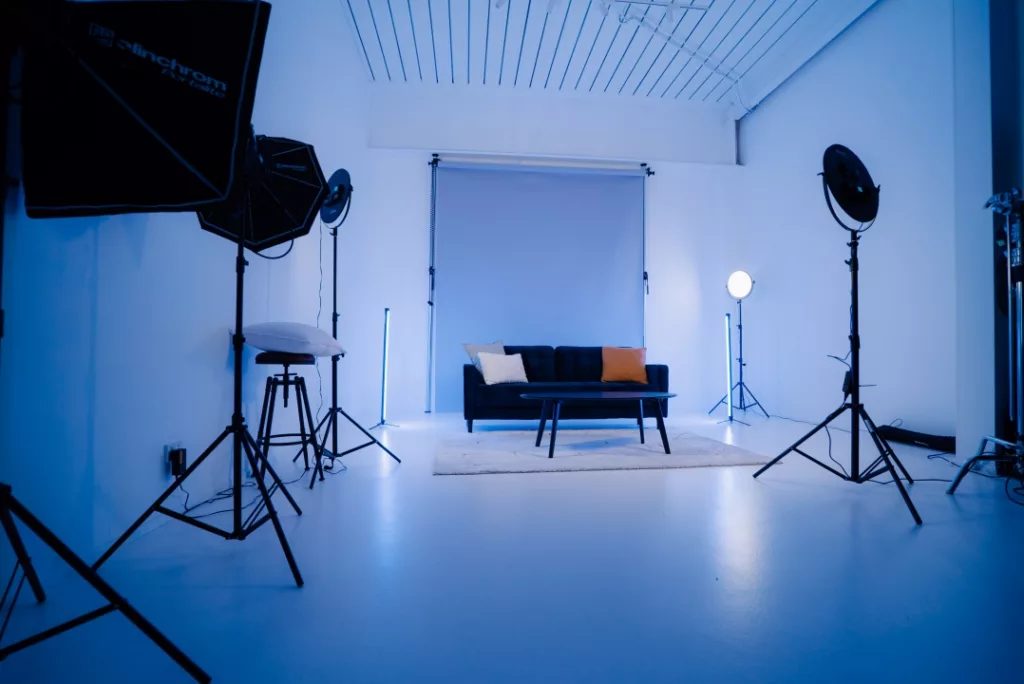 Bringing your vision to life
The Sunshine Coast brims with spectacular spots to film your promo video, each offering its own unique charm and atmosphere.
Whether you're lured by the comfort of your business locale, the dynamic energy of urban and natural landscapes, or the polished aura of a studio, the key is choosing the setting that aligns with your brand's story.
But remember, a location is just the stage – it's capturing the essence of your business that transforms a simple shoot into a captivating piece of art.
Partner with All In Creative
Make your next video unforgettable with All In Creative's studio space and professional Sunshine Coast video production team.
Here, we merge top-quality filming technology with artistic brilliance to bring your brand alive, creating videos that get results and make you look good!
With a dedicated video team, professional lighting and equipment, and a versatile setup, our Sunshine Coast studio is tailored to capture your vision down to the finest detail. Partner with All In Creative and get in touch with us today. We are here to make you look awesome!
So, you've decided to start a podcast. Except, you've probably noticed a growing trend on social media of podcasters filming their recordings.
What's this trend about?
Does filming a podcast help it reach more people?
The answer is a resounding yes!
Drop the mic and get dressed, it's time to find out why podcast filming is now an essential part of the podcast recording process.
Here we'll show you the top 5 reasons to video your podcast recording, an example of what those videos can do, and we'll help you get started on skyrocketing your podcast engagement!
5 reasons a video podcast is a good idea
Podcast filming helps it reach more people. A traditional audio podcast is limited to RSS distribution on platforms like iTunes and Spotify. But recording video along with audio will help you reach a wider audience by increasing your discoverability across video platforms and search engines. Adding captions will also boost your podcast's appeal and can provide SEO benefits.
To help you promote your podcast on social media. Instagram, Facebook, and TikTok are all about visuals, so it's hard to market your podcast without some sort of visual aspect.
By filming your podcast you'll have video to help you promote upcoming episodes, which can then be shared by your followers. This is especially important when you consider TikTok videos and Instagram Reels are the best ways to boost engagement and please the algorithm.
Tap into the power of YouTube. There's no doubt that the popularity of podcasts is continuing to grow but YouTube is a media behemoth. If you're a podcaster, you should be aiming to post your podcast to YouTube to help grow your audience like no other platform can. YouTube also brings a whole host of other monetization options if your podcast videos take off!
Build trust and connection with your audience. All people are visual beings. People want to see your face and that of your podcast guests because they like to see behind the scenes. Seeing facial expressions will help sell your stories and ideas by adding interest and emotion, and therefore, increase your engagement.
People want to watch. Surveys like this one show that nearly a third of podcast 'listeners' want to 'see' a podcast with a video component. Not surprisingly, and going back to our last point, 35% of those podcast listeners name YouTube (a video website!) as their preferred podcast platform.
A great example of how podcast filming helps gain fans
As we've discussed, podcast filming allows new followers to find you by extending your reach. A great example is The Imperfects podcast, which consistently ranks in Australia's top 10 podcasts.
While it runs for more than an hour, short snippets of video featuring their guests are shown to their more than 60 thousand Instagram followers to promote each episode. This allows them to choose emotive or funny anecdotes to draw listeners in and make them want to hear more. Seeing the podcasters' faces and that of their guests also helps them gain trust and credibility.
So, while people don't visit podcast apps for videos, The Imperfects podcast shows that harnessing the power of social media with podcast videos can be an effective tool for gaining more listeners.
Why a studio is the best place for podcast filming and recording
The production values of your audio podcast and video are a reflection of your brand. To get it right, you'll need a professional-looking space, lighting, one or more cameras, and editing software. But these are all investments that might be better outsourced.
Hiring a podcast recording studio that's set up specifically for podcast filming is a wise investment. To give your podcast a professional look and feel, it's also a great idea to hire a content creation team to help you with the process of filming, editing, and marketing your podcast.
Make the most of your efforts with professional podcast video filming on the Sunshine Coast
On the Sunshine Coast, All In Creative should be your first point of call when it comes to turning your podcast into a more professional production. Our Sunshine Coast podcast studio right in the heart of Maroochydore has state-of-the-art equipment for recording and filming, loads of furniture and backdrop options, and lighting that could even make you look 20 years younger!
Seriously though, whether you want to go the DIY approach and simply hire the studio, or you want a bit more help with video and editing, we can tailor a package to meet your needs.
From filming and editing to posting your podcast to social media, we're here to make you look awesome!
Social media for businesses is no longer optional – it's absolutely essential.
More than 95% of Australians use the internet, and more than 80% of those are active on social media. Not using social media for your business means you're missing out on reaching those 21 million potential customers, and growing your brand will be near impossible.
If those statistics aren't enough to convince you, here are some other benefits to using social media sites like Facebook, Instagram or LinkedIn for your business.
Isn't social media just another way to sell my products or services?
Social media sites are more than just ad channels. They can help your business perform better in many ways, from helping you respond to customer complaints to attracting new employees. Here's an overview of the four top reasons social media marketing is worth investing in.
Social media helps your business to:
Build and grow a brand
Communicate with customers
Gain insights
Advertise
Top 10 ways social media is good for your business
Not all social media platforms will suit your business, and you don't have to have a presence on all of them, just the ones your target demographic is likely to use.
Here are the top 10 ways social media can give your business a boost, along with some suggestions on which platforms might be best for you.
1. Get to know your customers
Social media is an easy way to ask your customers directly what they want! (And most people won't be shy in telling you.) This can also help to build your customers' engagement with your business by giving them a sense of ownership.
It's also an effective way to get your customers working with you with user-generated content. For example, creating a hashtag where you can share content, and your followers can get excited about your brand.
You can also use data from social media sites to dictate which direction to take your business and help you target your audience better.
2. Manage your brand's reputation
Negative attention can be one of the reasons business owners are reluctant to use social media. However, it's your chance to show how your business responds to negative feedback – and to create a positive image!
Customers are already talking about you, whether or not you are active on social media, so it's a good idea to get on top of things such as customer complaints before they go viral!
3. Keep the competition close
Social media has great tools to help you keep track of your competition and what people are saying about them. This might allow you to address problems they are having and offer an alternative or solutions. It will also allow you to know when they're launching new products that might impact your own business.
4. Grow your brand
It doesn't matter if your business is large, small or service-based, your existing customers will be looking for you on social media. Having a social presence will allow you to connect with customers who don't know you exist. In fact, business accounts with fewer followers can benefit from higher engagement rates than bigger brands.
5. Grow your website traffic
One of the best advantages of social media is that it will help direct customers and clients to your website to find out more about you and your business. For example, posting content such as a 'teaser' about a podcast, blog, or product can direct people to your website for more information.
6. Humanise your business
Social media is a great way to introduce your followers to your staff and voice your company values. It's also a great way to show others how people use and benefit from your products or services. Being authentic will help you gain followers and likely turn into sales or new business.
7. The familiarity effect
People are unconsciously drawn to things that are familiar to them. With so many millions of people using social media every day (several times a day), it makes sense to use this to your advantage by having your business at the front of their minds when it comes to buying products or services because they've just seen you on social media.
8. Be a source of information
The main reason people use the internet is to find information. No matter what industry you're in, social media offers the opportunity to establish your brand as an expert in your field. Social media sites such as LinkedIn are great for this sort of information sharing and may even help you find future employees who value your know-how.
Getting involved in social media by showing you're an expert in your field can also help drive traffic to your website as people seek out the information they're looking for.
Social media is also a great way to stay on top of news related to your industry or business.
9. Generate new leads for social sales and target your advertising
Social media is increasingly important for e-commerce and as a way to turn new followers into customers. It is a casual way for people to show interest in your brand or product and a low-cost way for you to connect to those potential customers compared to traditional advertising methods.
It also helps you target your key demographic by using social media analytics to craft messages specifically for the audiences you are trying to reach.
Another benefit of social media is that it's an easy way to track your return on investment, from follows right through to purchases.
10. Tap into the influence of others
When it comes to buying products or services, recommendations from friends and reviews are important to people. This is where influencers come in. Even if you don't think your business can afford to work with influencers or that it aligns with your brand values, there are other ways to tap into that 'celebrity power'.
Working with smaller content creators on social media is becoming more popular. They don't have to have hundreds of thousands of followers to help you promote your products. Find content creators with a smaller, more targeted following who align with your brand to help you demonstrate the value of your business.
Where to start when it comes to social media marketing for your business
Social media marketing can be a full-time job for some businesses. But as it's so crucial, it's worth investing in for the flow-on effects it has for your entire business.
Handing over the reins to someone else when it comes to social media for your brand, or seeking advice on where to concentrate your efforts, can save you a lot of money and wasted hours scrolling Instagram reels and TikTok.
Moreso, effective social media for businesses requires more than just knowing how to make a post. It requires knowing how to strategically navigate the competition priorities of social media, like serving your audience while also marketing to them.
Give us a call to get started making social media content that WORKS!
When it comes to strategies, creating and posting content, All In Creative can help you reach your digital goals.
We thrive on seeing our client's businesses succeed, whether they're looking for brand recognition or direct sales. Results are important to us! Give us a call today at 1300 993 010, or get in touch with our team to see how we can help you. We are here to help you look awesome!
Welcome to the audio revolution!
From daily news digests to hobbyist chats, true crime sagas to self-help advice, the podcasting landscape is diverse and thriving. But here's the kicker: as a business, you're sitting on a potential gold mine.
Here are some statistics to prove it…
At the end of 2022, Buzzsprout reported an almost 30% increase in podcast listeners over the previous 3 years.
New statistics from the US from the Interactive Advertising Bureau (IAB) forecast that podcasting revenue will increase from $2 billion in 2022 to $4 billion in 2024.
Edison Research reported that 56% of listeners surveyed said they considered buying something after hearing about it on a podcast.
Overlook podcasts, and you may be missing out on a massive marketing opportunity.
Intrigued? We bet you are! Let's explore why podcasting might just be your next marketing game-changer.
This article will give you an overview of:
Why podcasts are a popular form of marketing
Podcasting trends that are happening right now
Benefits for marketers using podcasts
How to get started with your own podcast
Why Podcasts?
The last few years have seen an extraordinary surge in a once-underappreciated medium: the podcast. No longer confined to niche audiences, podcasts have broken into the mainstream culture and grabbed our attention in a big way.
You might be wondering, with all the various content formats available – blogs, videos, social media posts, why choose podcasting?
It's simple: podcasts offer a unique mix of benefits that other formats can't quite match.
Accessibility
Podcasts are beautifully easy to consume. While reading an article or watching a video demands a certain level of active engagement, podcasts give your audience the freedom to multitask.
They can listen while commuting, exercising, cooking, or simply relaxing. In today's fast-paced world, this ability to "passively" consume content is a significant marketing advantage for businesses.
Personal Connection
The audio nature of podcasts promotes a personal connection that's hard to replicate in written or visual content. When listeners hear your voice in their ears, it cultivates an intimate relationship.
It's like having a conversation with them, making your brand more relatable and human. Want another bonus? Unlike videos that require users to have a stable internet connection, podcasts can be downloaded and enjoyed offline, enhancing their accessibility.
Enduring content
Podcasts offer longevity that's rare in the world of digital content. A great podcast episode remains relevant and enjoyable for years, providing evergreen content that continually draws in new listeners.
Podcasting Trends
Podcasting as a medium – and a marketing tool – is THRIVING. You can thank an array of interesting trends for shaping that dynamic digital landscape.
Getting niche
Today, there's a podcast for almost every interest, hobby, or industry you can imagine. Listeners love this tailored content because it feels like it's made just for them.
For businesses, this is a gold mine. By creating content that specifically appeals to your target market, you can attract a highly engaged and loyal audience.
For instance, a surf shop in Mooloolaba could run a podcast discussing surfing tips, gear reviews, and local surfing spots. This would naturally attract an audience of surf enthusiasts who are likely to become customers.
Local Focus
With the influx of podcasts on the global scene, there's a rising interest in content with a local focus. Podcasts that discuss local news, events, or culture can resonate with local listeners.
For example, a Sunshine Coast business could produce a podcast that reflects the local lifestyle can help foster a strong connection with the community. You could then cast a wider net and focus on the greater Queensland or Australian population.
Collaboration
Podcasts provide an excellent platform for collaborators between like-minded creators and businesses. You could consider co-hosting episodes, exchanging guest spots, or discussing topics of mutual interest.
This will help you reach a whole new audience and strengthen your professional network.
Value-Added Content
Listeners are increasingly looking for podcasts that offer more than just entertainment. Educational content, industry insights, practical advice – these are all in high demand.
By offering valuable and informative content, you can build your reputation as experts in your field and attract a loyal audience.
Benefits for Marketers
Podcasting can be a powerful marketing tool for your Sunshine Coast business. By incorporating podcasting into your marketing strategy, you can reap some enticing benefits.
Brand Awareness
Podcasts can significantly enhance your brand's visibility. When you host a podcast related to your business, you position your brand at the forefront of listeners' minds.
You'll reach potential customers who might not have discovered you through traditional advertising channels.
Here's an example: heard of Bumble? This global dating app has an Australian-based podcast featuring people discussing personal stories of their love lives. The episodes attract singles who are looking to date or hook up, promoting the app to their exact target audience.
Audience Engagement
Podcasts allow for a deeper level of audience engagement than most other marketing mediums. Regular episodes create anticipation and can cultivate a loyal listenership.
What's more, the conversational tone of podcasts fosters a sense of connection and trust with your audience.
For instance, Blue Apron, an ingredient and recipe meal kit company, has successfully used their podcast, "Why We Eat What We Eat", to engage their customers.
By discussing food and recipes, they've deepened their relationship with their customers and created a loyal community of culinary explorers.
Lead Generation
A well-produced, relevant podcast can be an excellent lead magnet. By providing valuable content to listeners, you attract potential customers to your brand.
From there, you can encourage them to visit your website, subscribe to your mailing list, or check out your products and services.
Direct sales
Over time, a podcast can even drive direct sales. You can use episodes to introduce new products or services, discuss their benefits, and direct listeners to where they can purchase them.
You can also run special promotions or discount codes exclusively for your podcast listeners to incentivise purchases.
Getting Started with Podcast Marketing
Starting a podcast might sound like a daunting task, but with a little planning and the right tools, your business can be recording a podcast in no time. Here are some steps to get you started.
Define Your Podcast
Before you hit the record button, take some time to define your podcast. What topics will you cover? Who is your target audience? What's your unique angle?
Don't forget to consider the format: will it be solo, interview-based, or a panel discussion?
Plan Your Episodes
Start with a list of at least 10 episode ideas. This will not only give you a head start but will also help you identify whether you have strong enough material for ongoing content.
Get the Right Equipment
Good audio quality is crucial for podcasting. However, you don't necessarily need a professional recording studio to get started (although it's HIGHLY recommended).
A decent USB microphone, a pop filter to reduce noise, and a pair of headphones for sound monitoring should suffice initially. Although if this is unfamiliar territory, getting some help with your recording is well worth the investment!
Choose Your Software
You'll need software for both recording and editing. Audacity is a popular, free option that's great for beginners.
Ideally, if you're using a podcast recording studio, this should be taken care of for you!
Recording and Editing
Record in a quiet, echo-free environment. For editing, cut out mistakes, long pauses, and any unnecessary content to make the episode concise and engaging. If your podcast is lengthy, make sure you've either got a producer taking notes for you or you keep track of these edits to make the process easier.
Hosting and Publishing
Once your podcast episode is ready, you'll need a podcast host to publish your podcast to platforms like Apple Podcasts, Spotify, and Google Podcasts.
You may find podcast studios (like ours!) will take care of this for you, making the process simple.
Podcasting: Your Next Big Marketing Move
In the world of digital marketing, trends come and go, but the rise of podcasting doesn't seem to be fading away anytime soon.
Podcasts offer a unique and powerful way to connect with audiences, build brand awareness, and drive growth for your business.
Now that you understand the immense potential of podcasting, it's time to take the leap. But where to start? Right here on the Sunshine Coast, at All In Creative's brand-new podcast recording studio.
Book a Sunshine Coast Podcast Studio & Start Marketing Your Business
We offer a professional, fully-equipped space where you can bring your podcast vision to life. With high-quality recording equipment and a comfortable, inspiring environment, creating a podcast will be an exciting new adventure for your business.
At All In Creative, we're dedicated to helping local businesses on the Sunshine Coast shine in the digital realm. Let us help you launch your podcast, engage your audience, and elevate your brand.
Why wait? Get in touch with us today, and we can get started on turning your business into the next podcast sensation.